José Lezcano & Friends
Redfern Arts Center
Sunday, · -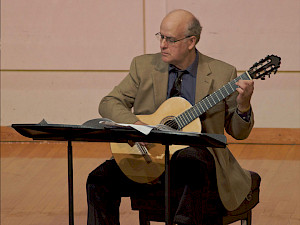 Dr. Jose Lezcano will perform with KSC Faculty pianist & collaborative artist Dr. Christina Wright-Ivanona, violinist Jennifer Ellowitich, members of the Portland Chamber Music Festival, and guest Ecuadorean flutist Karla Ortega, in performances of music for guitar and string; flute and strings; and flute and piano. The program is entitled "A Garden of Musical Delights," and features works from Italy, Cuba, and Ecuador.
The concert will include the world premiere of Lezcano's "From the Garden to the Staircase," for flute and strings; and the local premiere of his "Mojito, Guitar, and String Quartet," inspired by Cuban dance genres of the 1940s & 50s, such as the Cha-Cha-Cha and Bolero. Karla Ortega will perform the North American premiere of her father, Carlos Ortega's Piccolo Concerto, with Dr. Wright-Ivanova at the keyboard, who will also play continuo in the Vivaldi.
The program features works sharing a sunny Italian lyricism. It includes the evergreen Vivaldi Concerto in D for Guitar & Strings, RV. 93; Luigi Boccherini's elegant and exciting Guitar Quintet in D, with its fiery concluding Fandango, evoking 18th century Flamenco; and Mario Castelnuovo-Tedesco's magisterial Guitar Quintet, op. 143, composed for the Spanish guitar virtuoso, Andrés Segovia.
This event is part of the RAC Music Department event series and is open to the public.
Contact:
Redfern Box Office
603-358-2168
To request accommodations for a disability, please contact the coordinator at least two weeks prior to the event.