The Greasy Hair Club presents: Reefer Madness
Redfern Arts Center - Putnam Theater
Saturday, April 20, 2013 · 4:45 p.m. - 6:15 p.m.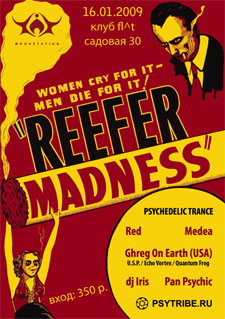 USA, 1936, Directed by Louis J. Gasnier, Rated PG, 66 minutes, DVD.
The Greasy Hair Club will bestow their improv wit upon this campy cautionary tale that features a fictionalized and highly exaggerated take on the use of marijuana.
A trio of drug dealers lead innocent teenagers to become addicted to "reefer" cigarettes by holding wild parties with jazz music. ©www.imdb.com
Satuday afteroon at 4:45 p.m. only
This event is part of the Putnam Film event series.
Contact:
Putnam Theatre
603-358-2160
To request accommodations for a disability, please contact the coordinator at least two weeks prior to the event.