Concert Band: Be My Valentine
Redfern Arts Center
Thursday, · -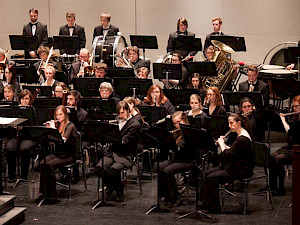 Be My Valentine Concert - February 14, 2019 at 7:30 pm in the Main Theatre of Redfern. Selections will include Wagner's Elsa's Procession to the Cathedral, John Phillip Sousa's Our Flirtations, Henk van Lijnschooten's Suite on Greek Love Songs, Michael Cox's Variations on a Theme of Wonderous Love, Mark Camphouse's Fantasia (On Black is the Color of My True Love's Hair), Pyotr Ilyich Tchaikovsky's 1812 Overture, and more. This concert will also feature KSC's very own Professor Emeritus Douglas Nelson.
Tickets are $5 for students and seniors, $10 for adults. Please contact the Box Office at (603) 358-2168 for more information.
This event is part of the RAC Music Department calendar and is open to the public.
Contact:
Redfern Box Office
603-358-2168
To request accommodations for a disability, please contact the coordinator at least two weeks prior to the event.