Three Alumni Dedicated to Public Service Find New KSC Connections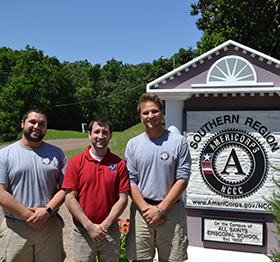 When Communication major David Condlin '10 was in his senior year at Keene State, he attended a recruiting event for AmeriCorps, the Corporation for National and Community Service. After he graduated, he realized that he wanted to volunteer and give back to communities. He served two years with AmeriCorps NCCC (National Civilian Community Corps) and now works full time as a staff member at the AmeriCorps NCCC campus in Vicksburg, Mississippi.
Wasn't he surprised then when he met Mason Prada and Braden Ladago, two 2016 Keene State grads who recently showed up in Mississippi to work for AmeriCorps NCCC? "I thought this was a 'small world' situation because the class of AmeriCorps members at our campus was only about 200 people, and we're so far from New Hampshire," Condlin said.
Mason and Braden had spent the last year serving alongside FEMA, assisting communities in disaster related work. They recognized each other when they arrived in Mississippi, though they hadn't known another while they were at KSC.
"I wanted to share this with the college in the hopes that others – alumni and current students – can see that Keene State College connects alumni throughout the country and contributes to their success in helping communities and the nation at large," Condlin said.
Related Stories