Student Voice: Making the Most of Your College Experience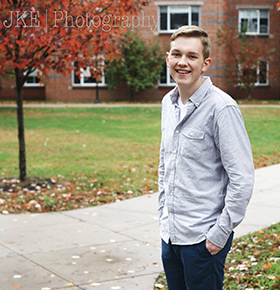 Entering Keene State College, I had one goal in mind: "I'm going to do what needs to be done to succeed in my degree." This seems like a fair goal, right? Well soon after my arrival, I found so much opportunity sitting right in front me. I initially met my advisor, Dr. Debra White-Stanely, while planning my schedule for the spring semester. In fact, this is the first opportunity that all students should utilize. Working alongside her, we developed a four-year course plan for me to follow. This not only made finding courses for the next seven semesters easier, but also showed me that I had more opportunities than I thought!
After looking at my four-year plan, I noticed there was plenty of room to pick up a second degree. At the time, I was pursuing a BA in film with a dual option of production and critical studies. This left me with about three semesters worth of credits for electives. I began thinking to myself, "what can I do with these credits?" And then it hit me – I was going to pursue a dual degree in communications. After bringing this idea up with Dr. White-Stanely, she helped me reconfigure my schedule accordingly. Thus, I am on my way to graduate with a BA in film studies and a BA in communications.
Initially, I was all set with this plan; however, toward the end of my sophomore year I began thinking about my future. What exactly was I going to do with my degrees? I knew that I wanted to work in the film industry, but I didn't know which career path to take. After long consideration, I realized that I have a passion for producing. Again, I went to my advisor for advice and again, she helped me. The two of us realized that it was possible for me to earn a management minor with my remaining credits. All it would take was my willingness to complete one additional course during the summer.
This brings me to where I am now. Currently I am taking several summer courses simply because I was given the opportunity to do so. Furthermore, I am interning with two organizations throughout the summer. The Communication and Philosophy Department offers a specialized internship course, which helps students find, apply, secure, and learn about working within organizations. The professor, Dr. Chitra Akkoor, has been a great resource for this process. She helped me find internships that provide experience for a career in producing.
With another year to go in my college experience, I am excited to see what other opportunities Keene State will provide. If I could give advice to any incoming or current student, I would say to make the most of your college experience. Reach out to your advisor, reach out to other professors for guidance, and take advantage of all the resources Keene State College has to offer.
Dan Stavens is a senior at Keene State from Tolland, CT, majoring in both communication and film. After he graduates, he plans to pursue a career as a producer in the film industry.
Related Stories