Creating a Legacy Gift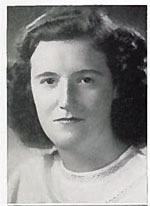 Ida Goodell '47
In June 2013, the Development Office learned that the late Ida Goodell '47, a career educator and school principal, had given the College an unrestricted gift of $326,000. Her remarkable legacy supports the College's highest priorities – scholarships and financial aid, and academic excellence.
Leaving a Bequest to Keene State College
The simplest and most transformational gifts sometimes come as a surprise to the College, when we receive word that an alumnus or friend has named the College as a beneficiary in a will or trust. If you prefer to keep your intentions private during your lifetime, as many do, consider using the sample bequest language here:
Sample: "I hereby bequeath ___ (dollar amount or percentage of my estate or residual of my estate after other bequests) to Keene State College, a voluntary New Hampshire corporation with its principal place of business at 229 Main Street, Keene, New Hampshire 03435."
Any bequests to Keene State College, whether a fixed dollar amount, a percentage of your estate, or the residual after other bequests have been distributed, will be considered a charitable contribution from your estate.
If you or your legal advisor have any questions whatsoever about estate planning at Keene State College, we invite you to contact Marilyn Shriver, Director of Strategic Engagement, at 603-358-2371 or email Marilyn.Shriver@keene.edu. All conversations are held in confidence, with no obligation.
---
Contact the Development Office
We Want to Hear From You!
For general questions, please contact:
Laurie Alden
Sr Program Support Assistant
603-358-2372
Or visit our staff page for a complete department listing.