1909 Society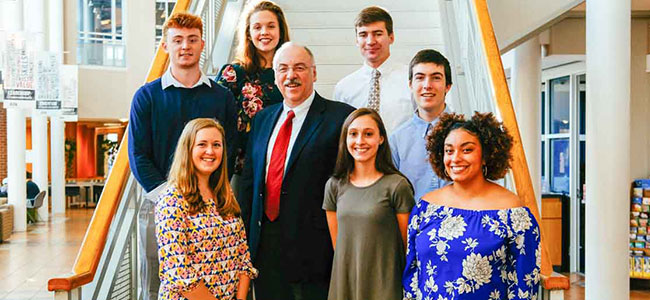 Members, Fiscal Year 2013
1909 Society Members, Fiscal Year 2013: July 1, 2012 - June 30, 2013
*Denotes those who are deceased
Member: $1,000 - $4,999
AASCU
Jacqueline A. Abbott '58 M'62
ABTech, Inc.
Agnes M. Lindsay Trust
Jane J. Allen '74 and Warren G. Allen
Davida Rubin-Baker and Yami Baker
Barbara R. Brackett '57 and William L. Brackett '57
Christine Branning and Harry H. Branning
Ronald B. Butcher H'70 and Kristine Butcher
Campus Compact for New Hampshire
Clarke Distributors Inc.
CNA Foundation
CNA Insurance
Lester Cohen and Norma R. Cohen
Lawrence P. Cole '59
Jane K. Corrigan '54 and Dean C. Corrigan '53
Carolyn B. Davis '48
F. Smyth Institute of Music
Roberto Ferragina '96
Nona P. Fienberg and Lorne M. Fienberg
David Frechette and Sydney Croteau-Frechette
Friends of the Thorne
MA Garamella Company Inc.
GE Foundation
Kenneth R. Goebel and Lorraine Goebel
Graphicast Inc.
Kimberly T. Harkness '85
Travis M. Hodgdon '94 and Gretchen Hodgdon
Edward J. Jennison
Donald J. Johnson '53
J P Morgan
Carol S. Jue and Kenneth Jue
Cheryl J. Kahn and Jay V. Kahn
Emily M. Kahn and Wolf Kahn
Henry Klopp and Beverly Klopp
Gary Kofinas
Julian Landau and Julie Landau
Gordon J. Leversee Jr. and Marcia M. Leversee
Liberty Mutual Insurance
Liberty Mutual Insurance Group
Jacob J. Lichman Memorial Trust
Sally T. Lichtenstein and John Lichtenstein
Donna M. Lietz and Andrew E. Lietz
Maryann L. Lindberg and Robert M. Lindberg
Anni E. Luneau '87 and Christopher Parker
Henry W. Maier '75
Daniel S. Mariaschin and Mazal Michal Mariaschin
Woody Meiszner
Katje K. Mickola '97 M'05 and Lynne M. Andrews
William H. Morgan and Susan B. Morgan
Brigida J. Mosley '46 M'72
Louis L. Murray Jr. '88
National Endowment for the Humanities
Mary M. Nelson '58
New York Life Insurance Co.
NH Ball Bearings, Inc.
NH Charitable Foundation
Nissan of Keene Inc.
Northeast Delta Dental
Order of Omega
Shirley B. Palone '65
Donna W. Robinson and Andrew P. Robinson
Jose A. Rodriguez and Margaret M. Rodriguez
Peter D. Roos and Elisabeth L. Roos
Constance A. Ross '57 and Eugene W. Ross '57
Allan O. Saulnier '63 and Madeline Saulnier '64
David R. Sawyer and Margaret M. Sawyer
Schwab Charitable Fund
Morton A. Shea '58 and Pauline D. Shea '58
Paul F. Silva '62
Joshua G. Smith '07 and Cate A. Smith '07
David B. Staples '55 M'60
Mansur K. Stevens Jr. '51
Frank G. Taylor Jr. '58
Verizon Foundation
Norma V. Walker '51 M'59
Margaret M. Walsh and John Newman
Mark F. Waltz '60 and Jane L. Waltz
Joseph F. Watters and Jane Watters
Whelen Engineering
Kathleen N. Williams
Robert N. Witham '53
Ellen M. Wright '63 and James Wright
Diana L. Wyman M'80 and Ronald P. Wyman Sr. '61
Stanley J. Yarosewick H'05 and Mary-Lou S. Yarosewick
Lori Zaniboni
Provost's Circle: $5,000 - $9,999
Barbara D. Austin '77 and Bruce L. Austin '77 
C&S Wholesale Grocers, Inc.
Class of 1950 
DTZ - a UGL Company
Jean K. Hammonds
The Hoffman Family Foundation
John E. Hoffman Jr. and Jean W. Hoffman
Keene Branch, AAUW
Let It Shine Inc.
Main Street America Group
The Melanson Company, Inc.
National Film Preservation Foundation
Noyes Volkswagen, Inc.
Rist-Frost-Shumway Engineering
Savings Bank of Walpole
Saul O Sidore Memorial Foundation
C. Paul Vincent and Nancy T. Vincent
President's Circle: $10,000 and above
Ayling Scholarship Foundation
Joseph A. Baute and Stephanie H. Baute '62 M'78
Cheshire Medical Center
The CMH Foundation
Janet L. Cohen and Richard B. Cohen
Dartmouth College
Engelberth Construction Inc.
Fidelity Charitable Gift Fund
Ida R. Goodell '47 *
Mary C. Hamilton '44
Marjorie P. Hilton '44
HNH Foundation
Keene Endowment Association
The Kingsbury Fund
Barbara J. Kirstein
Marion & Jasper Whiting Foundation
Markem-Imaje
Emerson A. McCourt '35  and Ruth McCourt '35 
Bruce LeVine Mellion '69
William T. Morris Foundation
National Geographic Education Foundation
New England Foundation for the Arts
NH Humanities Council
Northeast Utilities Foundation, Inc.
Barbara A. Peterson '48 *
Public Service of NH
Sodexo Campus Services
TD Banknorth Charitable Foundation
Timken Aerospace & Super Precision
Timken Foundation
Charles Irwin Travelli Fund
John A. Waterhouse '65
Charles G. Zoulias '67 and Christine Zoulias
Recent Graduates: 1 to 9 years since graduation
Michael T. Araujo '11
Robert J. Musto '11
Kaila R. Schippani '11
Christine F. Williams '11
---
Contact the Development Office
We Want to Hear From You!
For general questions, please contact:
Laurie Alden
Sr Program Support Assistant
603-358-2372
Or visit our staff page for a complete department listing.