1909 Society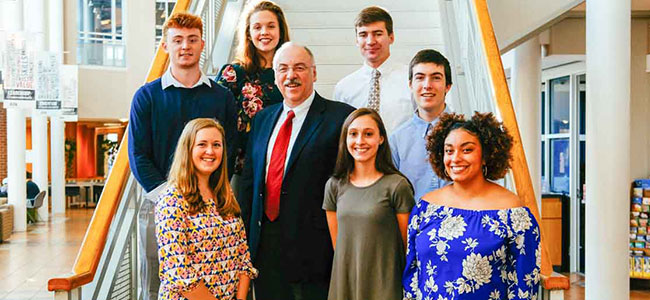 1909 Society
Criteria for Membership
The 1909 Society membership includes all donors who make an annual gift of $1,000 or more to any designation on campus.
All gifts to the College (including matching gifts from your employer) count toward your total giving in any fiscal year.
1909 Society membership is calculated by fiscal year (July 1-June 30) rather than calendar year. We encourage you to give as many times as you wish, keeping the June 30 deadline in mind.
I chose to give back as a 1909 member because I believe we have a duty to the next generation of Keene Staters.
– Bruce LeVine Mellion '69
Member Recognition and Benefits
All 1909 Society members' names will be listed on the Donor Honor Roll following the end of each fiscal year.
Gatherings will be held to recognize Society members: one in the fall and one in the spring.
A State of the College report will be sent out to Society members from the President's office.
Giving Levels
President's Circle: $10,000 and above
Provost's Circle: $5,000 to $9,999
Member: $1,000 to $4,999
1909 Society for Recent Graduates
As a special incentive for alumni who have graduated within the past ten years, entry to the 1909 Society will start at $100 per year, building to $1,000 by the time you reach ten years.
1-2 years since graduation: $100 ($8.34 a month)
3-4 years since graduation: $250 ($20.84 a month)
5-6 years since graduation: $500 ($41.67 a month)
7-9 years since graduation: $750 ($62.50 a month)
10+ years since graduation: $1,000 ($84.00 a month)
---
Contact the Development Office
We Want to Hear From You!
For general questions, please contact:
Laurie Alden
Sr Program Support Assistant
603-358-2372
Or visit our staff page for a complete department listing.