Diversity & Multiculturalism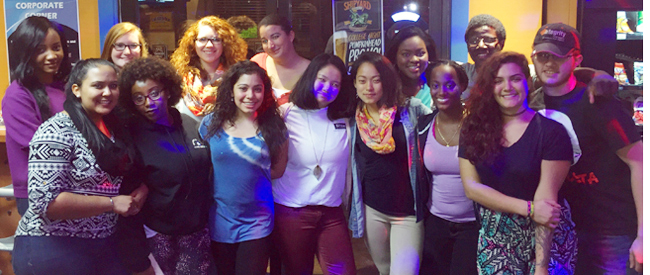 Keene State College Teach-In Schedule
February 1, 2017
Opening Welcome
9:30 a.m./Mabel Brown Room

Join us as we begin the day together.
10 a.m.-4 p.m.
---
Kick Ass Journalists: Speaking Truth to Power 

Presenters: Rose Kundanis, Marianne Salcetti

Description: Join the Journalism Department faculty in MAC 160 all day to view short films and discuss the power and responsibility of journalists and the press. Sessions begin at 10 am. 12 pm, and 2 pm.

[List of journalists at the end of this schedule]
Location: Media Arts Center 160
10 a.m.-2 p.m
.
The Counseling Center will staff a table in the Student Center Lobby.
---
Sessions 10-11:45 a.m.
Immigration in America: How Do We Fix a System in Crisis?

Presenters: Jessica Gagne Cloutier, Karen Balnis, Kim Schmidl-Gagne

Description: The United States has always been defined as a land of opportunity, a refuge from persecute on, and a nation of immigrants. Most Americans believe that immigration has stimulated and strengthened our economy and culture, but some wonder whether it is still good for the nation. The session will examine three options for immigration reform and provides a way for people of diverse views and experiences to seek a shared understanding of the problem and to search for common ground for action.

Location: Student Center Madison St. Lounge
---
Economic Pain in Cheshire County

Presenter: Marie Duggan
Description: Questions about what caused the loss of manufacturing jobs are a concern to many across the U.S. and in New England. What is true? Can manufacturing be restored to levels that provided robust sources of employment? What should we expect over the next few years? How will that impact you and your family?

This session runs from 10-10:50
 a.m.
Location: Student Center 309
---
Grab Them by the Uterus: Reproductive Rights and Freedom

Presenter: Emily McGill-Rutherford

Description: There is concern about legislative decisions that threaten the precedent of Roe v. Wade as well as to campaign promises to return Roe to the ash heap of history and about a Supreme Court ruling that legalizes gender discrimination in the provision of healthcare to an impending repeal of the program that granted 47 million women access to preventative healthcare services. Women have begun to express grave concerns about the future of their reproductive rights. Are these fears justified? If so, how did this happen? And where do we go from here?

This session runs from 11-11:50
 a.m.
Location: Student Center 309

---
Cell Phones, Social Media, and Community: Are We Happy With Where Things Are Going?

Presenter: Tom Webler

Description: The purpose of this session is to explore the way we use devices and social media and what kind of world we are creating. Many of us cannot go fifteen minutes without "checking my phone." While social media allow us to connect in very powerful ways, many feel something is also being lost. In this session we explore how we use social media and our phones. We examine the benefits and harms they bring to the ways we think and the ways we connect with others.
This session runs from 10 am-10:50 a.m
.
Location: Student Center Flag Room
---
Informed Citizenship in a Post-Truth World

Presenters: Irene McGarrity and Amanda Scull

Description: In a post-truth world, people are unable or unwilling to discern truth from biased information or fake news, preferring to seek out information that reinforces what they already believe. We will examine the information policy, economic, and cultural shifts that led to a post-truth information society. We will explore strategies and practices for identifying unbiased sources, and discuss ways of keeping ourselves and other people accountable to the truth.

Location: Student Center Atrium Lounge
---
Keene, Meet Keene

Presenter: Rocio Mora and Cory Davis

Description: Learn more about those around you (and yourself) through this challenge-by-choice step-in activity. The participants will be guided through a silent activity followed by a group discussion.

Location: Student Center Mabel Brown Room
---
Bridging the Divide: Campus/Community Relations

Presenters: Skye Stephenson and others

Description: In working towards the strengthening of "our beloved community" (in the words of Martin Luther King), it is worthwhile to reflect and consider how members of the Keene State College community (faculty, staff and students) and the Keene community interconnect and interrelate – celebrating our areas of strength and recent improvement and discussing ways in which we can improve in how we relate and understand each other. This workshop will have ample time for small group discussion and feedback. It will be facilitated by a panel that will include a student, faculty member and staff from KSC as well as a City Council member, and a representative of the local community.

Location: Centennial Hall
---
Government of the People, By the People, for the People?: The President, the Legislature, and You

Presenters: Bill Bendix, Mike Welsh, Wes Martin, and Phil Barker

Description: Larry Welkowitz will moderate this panel of experts. The session will begin with a short discussion/refresher at the start and be followed by time for questions and discussion.

Location: Centennial Hall
---
Sessions 12 noon-1:45 p.m.
International experiences at Keene State College 

Presenters: The international faculty at Keene State

Description: This is a round table with several KSC international faculty members talking about their experiences of both teaching at Keene State and living in Keene, NH. Everyone will be invited to share their own experiences whether as international faculty/students, or as students/faculty of diverse backgrounds. We hope this conversation will help create a more dynamic and multi-dimensional picture of our community and help us understand that we are all part of this community, regardless of our nationality, identities, and cultural backgrounds.

This session will run from 12 noon-12:45
 p.m.
Location: Student Center 309
---
Hopes & Fears for the Environment in the Next Four Years

Presenters: Environmental Studies Faculty

Description: This session will ask participant to share hopes and fears about the environment with the faculty. Participants will learn more about how to interpret data and information about renewable energy, climate policy, and other environmental issues.

Location: Centennial Hall
---
Locker Room Talk Matters: When Does it Stop Being Funny?

Presenters: Mentors in Violence Prevention (MVP) 

Description: We all live in a world of explicit and sometimes violent language. Using videos and humor, Mentors in Violence Prevention peer educators will facilitate a discussion exploring the gray areas between just kidding around and sexual harassment.

Location: Student Center Mabel Brown Room

---
Mindfulness for Challenging Times

Presenters: Melanie Adams and Jeanelle Boyer

Description: It's easy to fall into constant worry during times of conflict and uncertainty. This session will provide students, faculty & staff with techniques to quiet their thoughts and be present. Facilitators will combine movement, multiple meditation practices, and time for reflection. Come learn how down-time can make you more productive and improve your well-being.

Location: Student Center Atrium Room
---
Why Has Our Society Become So Divided and How Can We Begin to Rebuild Trust?

Presenters: Rosemary Gianno, Mike Welsh, Gary Bonitatibus

Description: In addition to increasing economic and political inequality in this country, growing moral and ideological divisions are contributing to greater mistrust among Americans. We will begin with a 20 minute TEDTalk entitled "Can a divided America heal?" A discussion of these trends, geared toward possible solutions, will follow.

Location: Student Center Madison St. Lounge
---
Transgender Education Program

Presenters: Hunter Kirschner and Brandon Muncy

Description: Learn about transgender-related terminology and the gender transition process, why naming and pronouns are so important to the transgender community, how microaggressions impact the mental health of transgender people, and local resources to support transgender students and employees at Keene State College, such as the new preferred first name option.

Location: Student Center Flag Room
---
Sessions 2-3:45 p.m.
Step Up KSC: Becoming an Active Bystander

Presenters: Michelle Morrow and Tiffany Mathews

Description: Step Up is a Bystander Intervention training that was developed at the University of Arizona. The goals of Step UP are to: raise awareness of helping behaviors, increase motivation to help, develop skills and confidence when responding to problems or concerns, and ensure the safety and well-being of self and others.

Location: Student Center Madison St. Lounge
---
Check Your Privilege: Identity, Intersectionality, and Pluralism 

Presenters: Emily Robins-Sharpe and Amy Loewenthal

Description: What is privilege? What separates us? How do we move from tolerance to acceptance? When do we cross and claim different boundaries of identity? This interactive session focuses on how we understand ourselves within diverse communities, how we forge solidarity across fault lines, and how we disrupt aggression in order to create a more welcoming campus culture.

Location: Centennial Hall
---
Understanding and Attending to Sociocultural Sources of Distress

Presenter: Brandon Muncy

Description: The session will be aimed at understanding the ways in which sociocultural and political sources of distress impact minority mental health. Specifically, the session will focus on areas such as micro and macro aggressions, the ways in which they give rise to disparate mental health outcomes in regards to depression and suicide risk, the ways in which such forces impact allostatic load across the life course, and the ways in which supportive and actively anti-racist, anti-homophobic, anti-misogynist (etc) environments serve as protective factors in regards to mental health disparities.
This session runs from 3-3:45
 p.m.
Location: Student Center Night Owl Café
---
Reiki: Balance Energy & Relax

Presenter: Kathy Forrister

Description: Participants will learn about the human energy system and how stress can get our energy out of balance. After a discussion about the definition and history of Reiki and exploration of the chakras participants are welcome to sign up for a reiki relaxation session with Usui Reiki Master Kathleen Forrister

[40 minute session and 3 sign-up sessions of 20 minutes each]
Location: Student Center Atrium Room
---
Courageous Communication

Presenter: Leo Sandy

Description: This presentation will focus on some guidelines when engaging in dialogue with people who have opposing views. The presentation will be followed by discussion around situations in which participants engaged in verbal conflict with those with whom they disagreed on specific issues.

Location: Student Center 309
---
Creating Equality When the Government Doesn't Want To: How Activism Can Make a Difference Before the Next Election

Presenter: Sasha Davis

Description: The session provides an introduction to the basics of just what social movements are and the different forms of activism they undertake. We'll also look at some of the successes they have had, and then try to apply those lessons to the current context.

This session runs from 3-3:45 p.m.
Location: Student Center Flag Room
---
Active Listening & Empathy

Presenter: Marisa Benson

Description: This session will give participants the opportunity to learn about what it means to be present, listen, and develop empathy. In these difficult times it is imperative we truly try to hear what others are saying and feeling. The session includes a video and opportunities to practice. This session runs from 3-3:45 p.m.
Location: Student Center Mountain View Room
---
New Hampshire Listens
Presenters:Bruce Mallory from NH Listens and Melina Hill Walker from The Endowment for Health
Description: Bruce Mallory and Michele Holt-Shannon have been leading discussions related to changing demographics, power and privilege with cohorts of NH leaders. The project is funded largely by The NH Endowment for Health.
Location: Centennial Hall
---
Developing Peace, Dialogue, and Diversity

Presenters: KSC Students

Description: A group of students with diverse backgrounds will discuss their experiences and insights regarding instances of ignorance, oppression, and intolerance. This discussion aims to promote inclusivity and understanding across campus and the wider community.

Location: Student Center Mabel Brown Room
---
Civil Disobedience

Presenter: Michael McCarthy

Description: A conversation about 50 years of social activism including civil disobedience through the eyes of an "activist." Where have we been, how did we get here, and what are the future outcomes for us, our country, and the world?
 This session runs from 2-2:45 p.m.
Location: Student Center Flag Room
---
Sessions 4-5:45 p.m.
Breaking the Stigma: KSC Republicans Club in Conversation

Presenters: Keene State College Republicans Club members

Description: With all of the political unrest in our country today, it is important to understand different perspectives, rather than only making assumptions. Conservatism is widely misunderstood and many conservatives are immediately considered to bebigoted. Our goal is to discuss the beliefs of the many conservative people, and break the stigma that all conservatives are intolerant people.

Location: Student Center Mabel Brown Room
---
How Do We Talk About Race and Racism?

Presenters: Candid Conversation Group

Description: Can we talk about race and racism? Why does race matter? Is there institutional racism at KSC? Join us in a Candid Conversation about race.

Location: Student Center Mountain View Room
---
Stigma and the Power of Language

Presenter: Dante Rey Diffendale

Description: This session will focus on the relationship between the stigma of addiction and how language can affect a person's psyche. Through an interactive activity participants will examine the impact of language and why it is important to be conscious of the words we use.

Location: Student Center 309
---
Language Matters: Microaggressions

Presenter: Hunter Kirschner

Description: In this session, participants will explore the impact of everyday language, the invisibility of oppressive systems, and what they can do in order to minimize the occurrence of microaggressions. The presentation uses audience dialogue as well as video examples to demonstrate how microaggressions hinder our ability to have a diverse and inclusive society/community.

Location: Student Center Madison St. Lounge
---
Courage, Mindfulness, and the Environment

Presenters: Renate Gebauer and Fred Taylor

Description: This workshop will explore inner resources that can help us respond with resiliency and hope to the challenges that lie ahead for the environment. The workshop will include mindfulness meditation, sharing in pairs and small groups, and activities inspired by Joanna Macy's idea of "Active Hope."

Location: Student Center Atrium Room
---
Session 6-9 p.m.
Rethinking Normal

Presenter: Hank Knight

Description: Join Professor Knight's class on trauma for a workshop and conversation about deconstructing and reconstructing normal. 
Location: Mason Library 121
[Note: space is limited]
---
Journalists Covered in Film Viewing and Discussion 
 Journalists include:

Ida B. Wells speaking truth to power on racism and violence

Nellie Bly speaking truth to power on disabilities-mental health

Ida Tarbell speaking truth to power on corporate monopolies

Edward R. Murrow speaking truth to power on labeling and black listing

Woodward and Bernstein speaking truth to power on imperial presidencies

Boston Globe Spotlight team speaking truth to power on exploited children