Diversity & Multiculturalism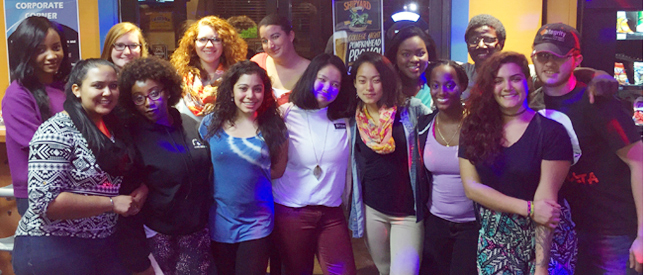 Don't Cancel That Class!
If you must miss a class due to personal or professional obligations, and you cannot find another faculty member to cover your class, don't cancel that class!
Rather than sending your students home, bring in a skilled staff member to do programming and take advantage of your valuable class time! These workshops cover a variety of topics and are a great way for students to learn about important resources available to them at Keene State. If you know about your absence at least 2 weeks in advance, fill out the form below to request a substitute program.
Below is a list of the currently offered presentations and workshops, then below that is the form to request a program. If you have any questions regarding the offered programs, please contact Hunter Kirschner at hunter.kirschner@keene.edu or (603) 358-2639.
Workshops and Presentations Offered
Bible as Literature | 1 hr
The Judeo-Christian Bible is one of the most-quoted works of literature in the world, and a treasure trove of different literary genres. From epic to poem, letter to apocryphal, Ancient Near Eastern biography to Greek Irony, the Judeo-Christian Bible covers the spectrum of genres and writing styles. This presentation helps students look at this influential and important work of literature as just that: literature. It also helps them place it within its own cultural contexts and in the parade of world literature, seeing which works it references, as well as which works reference it, and how.
Presented by Cindy Cheshire, The Newman Center
Biblical Literacy for Secular Culture | 1 hr
In our postmodern society, it's easy to think that we've moved beyond religion in the public sphere, but so many elements of modern media and politics still claim a Biblical basis—often misguidedly so. What's an informed populace to do? This workshop helps participants from all backgrounds form the tools to recognize common Biblically-based religious arguments in news media and political discussion, understand the texts' literary background, recognize when texts are being used inappropriately, and be an active participant in such conversations—even if they aren't personally religious or come from a different tradition.
Faith and spirituality may be personal, but when they're being used to justify public policy, it's everybody's business! Possible topics to focus on can include:
Women's issues and feminism in Biblical texts
LGBTQ+ issues
"Intelligent design" and understandings of Creation theories in education
Religious language in political discourse
Presented by Cindy Cheshire, The Newman Center
Gender and Sexual Identity Discussion | 45 minutes
In these discussions, participants will explore the systems of gender and sexuality and the identities within them. Each discussion includes a video, common definitions, and questions to foster further reflection and understanding. Please choose one of the topics below.
Topics offered:
Nonbinary // gender nonconforming // transgender
Pansexuality and bisexuality
Asexuality and agender
Presented by Hunter Kirschner, Office of Multicultural Student Support and Success
Identity Signs | 1 hour
This movement- and discussion-based activity focuses on what our salient identities are in particular circumstances. It also explores how do our different identities intersect, interact, and affect our daily lives. This will allow participants to understand the experiences of others as well as demonstrate that even people who identify in the same way can experience different levels of (self) consciousness around a particular identity.
Presented by Hunter Kirschner, Office of Multicultural Student Support and Success
Interested in an Internship? | 45 mins
This presentation can be adapted according to the class and department. First year or sophomore courses may want a more general "why do an internship." Upper level courses may want more specific orientation to the internship resources and process. The presentation is includes discussion and optional activity. Topics covered include:
Benefits and types of internships
How to find an internship - JobWISE and other options
Application process - KSC's resources for resumes & interviews
Professional behavior in work settings
Reflection as a learning tool
Safety, risk awareness, Title IX
How to set up an internship for credit
Presented by Karen Balnis, Academic and Career Advising
Transgender 101 | 1.5 hours
In this workshop, participants will learn about transgender-related terminology and the gender transition process, why naming and pronouns are so important to the transgender community, how microaggressions impact the mental health of transgender people, and local and national resources to support transgender people. This session is activity-based with some lecture as well.
Presented by Hunter Kirschner, Office of Multicultural Student Support and Success
Why Faith & College Life Can (and Should) Coexist | 45 min
Studies show that positive spiritual health correlates to decreased anxiety, increased feelings of peace and belonging, a stronger social group, and higher self esteem in college students. Join the Campus Minister for this look into the intersection of college living and general spirituality. This presentation focuses on the benefits of spiritual health, common objections to intentional spiritual experience from college students, and gives tools for spiritual exploration. No specific religious tradition is encouraged or pushed, and students from all backgrounds and understandings will find something to help them grow.
Presented by Cindy Cheshire, The Newman Center
Don't Cancel That Class Program Request Form
Please Note
Though we will attempt to accommodate all timely requests, we cannot guarantee that we will be available for every program.