Orientation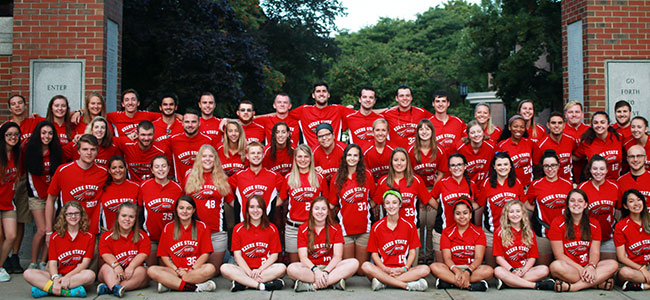 Please note
The information on this page is from the 2016 Orientation program and is being made available as a sample of what is included in the Orientation program and in the related materials. This site will be updated for the 2017 program once the schedule has been finalized. Come visit us again then.
F.A.Q.
Click any question below to display the corresponding answer.
?
How are new students registered for classes?
Incoming students indicate the area of their academic interest on the Common Application.
Students are then registered for 2 classes before they arrive for June Orientation. You can view the schedule by using the information included in task #4. The courses new students are registered for have been selected by the department chair of the discipline in which the student has expressed an interest. If the student has not indicated a specific academic major, faculty and the professional advising staff have selected courses that will both satisfy the Integrative Studies requirements and expose the student to potential areas of interest. The courses undecided students are registered for will apply to their overall graduation requirements regardless of the major the student ultimately selects.
With the assistance of faculty and professional advisors, students will complete their "working schedule" at the June Orientation Program by self-selecting two additional classes.
As the summer progresses students may decide to adjust their fall schedule and will have several opportunities to do so:

In mid-August, online prior to arrival for late August Welcome Week
Supported schedule adjustment with professional advising staff during the late August Welcome Week
Schedule Adjustment Week which is the first week of classes
A schedule is never finalized until the last day of Schedule Adjustment every semester.
?
How do I get an advisor?
All new students will be assigned an advisor in their academic area. Students who have not yet chosen a specific academic direction will be advised by the professional advisors in the Academic and Career Advising Center.
Advising assignments will occur prior to the start of the fall 2016 semester.
?
How do I find an on-campus job?
With the aid of federal funds, the College provides on-campus employment opportunities for students with demonstrated financial need. Students who have received a Federal Work-Study (FWS) award will receive a FWS Authorization Card from the Financial Aid Office by email. The FWS Authorization Card is required for students to be hired for an on-campus position.
A Job Fair is held on Tuesday of the first week of classes where students can find out about vacancies from many different departments on Campus. After the first week of classes, students can check the Student Employment listings on the Financial Aid Web page.
The College also employs students who are not eligible for Federal Work Study funds but who may still want to work on Campus. These jobs are called Student Hourly. Jobs can be found at the Job Fair or by visiting the Financial Aid Web page and looking under Student Employment.
?
How do I set up an account with a local bank?
There is a listing of the local banks provided by the Keene Chamber of Commerce. In the "Search by Category" field select Banking and then click go.
?
Who is required to live on campus?
All first year students and second year students are required to live on campus unless granted an exception by the Director of Residential Life and Housing Services. This includes transfer students with 51 or fewer total credits.
Exceptions will be considered for students commuting within a 30 mile radius of the campus and living with a parent or legal guardian, married students, and non-traditional age students. Other exceptions may be made due to extenuating and mitigating circumstances related to health and safety issues. The request to be released from housing must come from the student, not from the parent or legal guardian.
?
When do new students receive their housing assignment?
Students will receive their housing assignment mid to late July.
?
What meal plans are available?
All residential students are required to have a Platinum Meal Plan and may upgrade to Platinum Plus 175, Platinum Plus 275 or Platinum Plus 500 Meal Plan. It is important to remember that the Meal Plan Dollar amounts (175, 275, and 500) are applied EACH semester. For more information.
?
Can students have overnight guests in their residence hall rooms?
?
What if roommates don't get along?
The Residential Life staff is very well trained in helping students to mediate conversations about living together. All students involved need to give mediation a good faith effort. There is a process that is followed and we encourage all students to advocate for themselves by speaking with their Resident Assistant or their Residence Director. No room changes are permitted during the first two weeks of classes.
?
How do students who live on campus get their mail?
Each residential student is assigned a mailbox for the duration of his or her stay in campus housing. Mail Services is located on the second floor of the Student Center.
The preferred address format is this:
  * Student name
  * Mail Stop [number]
  * Keene State College
  * 229 Main Street
  * Keene, NH 03435-[Mail Stop number]
?
Is Mail Services open on weekends?
The service window is closed, but students still have access to their mailboxes.
?
How do I know if I have a package?
A signature slip will be placed in your mailbox. Take the slip and your ID card to the service window to pick up your package.
?
Can I mail packages from KSC?
Yes, we provide USPS, UPS, and FedEx service at our service window.
?
How safe is the KSC campus?
?
Does KSC offer safety escorts?
Yes, personal safety escorts are available on campus before and after shuttle hours. Escorts may be walking or driven and are provided on a staff-available basis. There may be times when you are asked to wait at your location until an officer is available. If you are asked to wait in a parking lot, please remain in your vehicle with the doors locked until you see a Campus Safety Officer. Flash your lights and the officer will come to you. Call the Department of Campus Safety at (603) 358-2228 or stop in to Keddy House to request an escort.
?
Can freshmen have cars on campus?
?
How will I know there is an emergency on campus?
Keene State College has an emergency notification system called DialMyCalls that students can register for to receive texts and phone calls notifying them of any emergency condition which may require action. Look for information about DialMyCalls on MyKSC.
?
How do I connect to the KSC Wireless?
To connect to the KSC wireless network, students are required to have the following installed on their computers:
Network Access Control (NAC) Software – Student will be prompted to download this software when connecting to the KSC wireless network for the first time. The NAC protects the network by making sure the computer has anti-virus software installed and running and Windows Updates turned on.
Once these two requirements are completed, to connect to the wireless network:
Select the KSC secure wireless network on your computer or device.
At the Network Authentication page, enter NetID@student.
Students connect using their KSC NetID and password
Note: Personal wireless routers or access points are not allowed on campus. These devices create interference with the KSC secure network, reducing network performance and impacting surrounding students.
?
Where can I print on campus?
Keene State has printing release stations in the Student Center, Rhodes Hall lobby, Science Center lobby and the TDS lobby. Log into http://print.keene.edu and choose the location to print to. At that release station, log in and print it out. These stations are in located in buildings that open at 7 a.m. Printing is also available in the Student Computing Cluster in the Mason Library. There is no cost to students for printing.
?
What technical support and technology services are provided to students?
The IT Group HelpDesk provides students with technical support for:
issues connecting to the wireless network
installing KSC approved anti-virus software
questions regarding MyKSC and Canvas
cable television services
NOTE: The IT Group HelpDesk does not fix computers since most new students will bring computers that are under warranty and should be referred to the manufacturer.
Contact the IT Group HelpDesk:
helpdesk@keene.edu
603-358-2532
2nd floor of Elliot Hall
http://www.keene.edu/helpdesk
---
Contact Orientation Staff