Academic Year Startup Events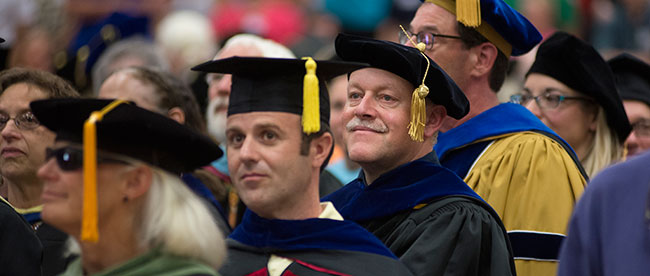 Academic Year 2017/18
Monday, August 7
---
Tuesday, August 8
All Campus Meeting with Chancellor Todd Leach
11 a.m., Student Center, Mabel Brown Room
---
Wednesday, August 9
---
Thursday, August 10
---
Friday, August 11
---
Monday, August 14
Orientation for New Adjunct Faculty
5-7 p.m., Huntress 12
Contact: Jamie Landau
---
Tuesday, August 15
Orientation for New Adjunct Faculty
9-11 a.m., Huntress 12
Contact: Jamie Landau
---
Wednesday, August 16
---
Thursday, August 17
Orientation for New Tenure-Track, Clinical, Contract, and Post-Doc Faculty
8 a.m.- 5 p.m., Huntress 12
Contact: Jamie Landau
Student Affairs and Enrollment Management Opening Luncheon
11:30 a.m. - 1 p.m., Young Student Center Mabel Brown Room
---
Friday, August 18
Orientation for New Tenure-Track, Clinical, Contract, and Post-Doc Faculty
8 a.m.-5 p.m., Huntress 12
(breakfast with principal administrators and Academic Affairs Council, 8-9 a.m., Mountain View Room)
Contact: Jamie Landau
---
Monday, August 21
Coffee 10 a.m Student Center, Mabel Brown Room
Opening of School Address with Interim President Melinda Treadwell
10:30 a.m.- 11:30 a.m., Mabel Brown Room
Contact: Cindy Krautwurst
Welcome Back - Campus Luncheon
11:30 a.m - 1 p.m., Zorn Dining Commons
Contact: Cindy Krautwurst
Letter Writing Party
1:30 p.m. - 3:30 p.m., Mason Library Room 104
Interested in collaborating with Admissions & Marketing and Communications on a campaign to reach out to admitted students? Join Lucy Web and Peg Richmond for a letter writing party. Each faculty participant will work with Lucy and Peg to draft a letter communicating their passion for their discipline and Keene State to prospective students. The goal for this session will be to complete a letter in the session which will become part of our admitted student campaign – an opportunity for you to connect with our admitted students.
---
Tuesday, August 22
Provost Opening Meeting
8:30 - 10:30 a.m., Mabel Brown Room
Contact: Kim Harkness
Faculty Department Meetings
11 a.m. - 1:30 p.m., Individual rooms arranged by units
School Meetings
Arts & Humanities: 2 - 4 p.m., Student Center Mountain View Room
Professional & Graduate Studies: 2 - 4 p.m., Rhodes S203
Sciences and Social Sciences: 2 - 4 p.m., Science 101
---
Wednesday, August 23
New Student Move-In
Share in the high energy and excitement as our newest students' begin their grand adventure! Faculty and Staff who come back year after year say it's lots of fun, and no heavy lifting is required.
(volunteers needed most between 7:30 a.m. and 1 p.m.)
Contact: Caroll Lothrop
Governor and New Hampshire Executive Council Meeting 10 a.m., Young Student Center Mabel Brown Room
KSCEA Meeting
12 p.m. - 2 p.m. Rhodes 203S
Light lunch will be served.
New Student Convocation 2:30 p.m. New Student and Clap In Line Up
Student Groups 1-25 meet on Main Street, student groups 26-50 meet on Fiske Quad
Faculty, staff and parent line up on Appian Way
3:30 p.m. Convocation begins, Spaulding Gymnasium
---
Thursday, August 24
New Student Meetings with Academic Departments I
9:45 a.m., see Orientation Schedule for specific Department Locations
New Student Meetings with Academic Departments II
1:00 p.m., see Orientation Schedule for specific Department Locations
---
Friday, August 25
---