Holocaust and Genocide Studies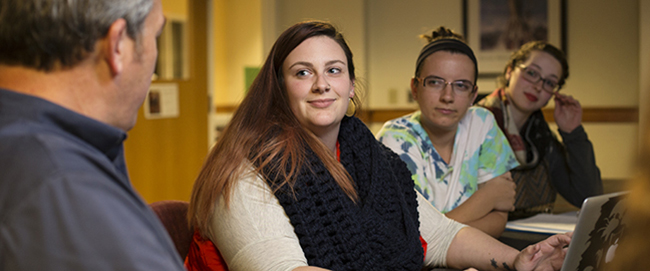 Johanna DeBari '14
"H&G Studies has challenged me with questions that don't have answers, or at least, not any "right" answers. It's taught me to think beyond black and white, yes and no, to expand into "the gray zone" (to use Primo Levi's analogy) where some things have no exact explanation. Everything is always fresh, changing, and asking me to adjust my mindset and keep as open a mind as possible.
People ask 'why would you study something so depressing?' And my response is 'to create a better humanity for the future.' I align myself with Alice Walker's view that 'Activism is a way of paying rent to live on the planet.' I am going to be promoting human rights and equality for the rest of my life and the H&G Studies program is giving me the academic and professional tools to do so.
The whole H&G Studies department is so inviting and nurturing it's hard to resist. The professors and staff are absolutely beyond incredible and some of the most inspiring people I have met in my life. There is always someone ready to help, whether you need to talk about something academic or not. I have sat in professors' offices discussing topics from class I am excited about and they are still willing to sit with me and bounce ideas around."
---
Meagan Ingalls '11
Meagan is now pursuing a Masters degree in history at the University of Vermont and working full time at a school for children with autism and other emotional disorders.
"The Holocaust & Genocide Studies program prepared me very well for the rigors and challenges of graduate school. Through a combination of guidance and freedom, it gave me a chance to follow my interests, even when they wandered outside the curriculum. Guided by its amazing faculty, I got the opportunity to meet and converse with notable scholars on the Holocaust and genocides, making important connections that have helped shape my academic career. Fellow students in the program also motivated and challenged me, making me ready for the competitive world outside as well as within academia.
I was excited by everything about the classes – largely because of the faculty, every single one of them. And again, I loved hearing from my peers, which is important in a program devoted to the study of humanity and consequences of choice.
Begin pull-quote…

I was excited by everything about the classes – largely because of the faculty, every single one of them.

…end pull-quote
– Meagan Ingalls
Discussions with fellow students showed that the program appeals to so many interests – history, psychology, sociology, film, theology, gender studies, and philosophy. Everyone can find a place in this program. And the faculty are always there to support, encourage and motivate you to think, research, and write well."
---
Taylor Mitchell '11
Taylor Mitchell is a Program Specialist with Americorps in Anchorage, Alaska and the 2011 winner of Charles Hildebrandt Holocaust Studies Award. She also holds a Bachelor's degree in History and runs ultra marathons.
"My time as a Holocaust & Genocide Studies major played a crucial role in bringing me to Anchorage. The program taught me that responsibility means bearing witness then going forward to tell the story— my own story. In this, it taught me that I have a voice and a flame burning inside me. I can never let it burn out. These lessons have taken me further than any text or lecture could have.
What made diving into such classes as 'The Holocaust' or 'Comparative Genocide' manageable was knowing that the person standing in front of the room would walk beside me on my journey. The professors in this program are gems. With these relationships, I was able to confess all that lived within me, from the light to the dark.
There is nowhere else I would have gone to school; HGS at Keene State College was my perfect match. Small classes taught by compassionate, brilliant professors transcend classrooms and allow for meaningful conversations where students feel safe to grapple with the material. The dedication and passion in the HGS department is unparalleled."
---
Contact Holocaust & Genocide Studies
Wise up!
Contact Admissions
Request information
Holocaust and Genocide Studies
Michele Kuiawa
Sr Program Support Assistant
603-358-2490
Admissions Office
800-KSC-1909
229 Main Street
Keene, New Hampshire 03435