Jenny Provo, MS, RD, LDN
2015 Alumna, Jenny Provo, Wellness Registered Dietitian at Allstate and Wellness Director for Sodexo Corporate Services, Northeast, Ohio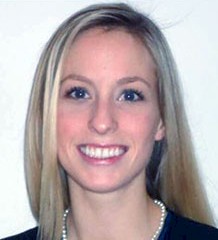 "What I enjoyed most about my experience in the Keene State Dietetic Internship (KSC DI) was the interaction with other interns from all over the country," says Provo, DI alumna from the class of 2015. "Every intern brought valuable strengths and prior experiences that added to the learning environment." The KSC DI was the right choice for Provo because "it allowed me to customize the internship to best fit my wide array of dietetic interests."
While in the KSC DI, Provo explains that she tried to gain as much experience as possible to develop the skills needed to work in corporate wellness. Her favorite rotations included her food service rotation in Brattleboro, VT at World Learning and at the Center for Health Promotion in Concord, NH. While at Concord Hospital, Provo had the opportunity to lead a series of Kids Top Chef cooking classes and create an obesity prevention program for Concord Hospital's employees.
When discussing how the KSC DI prepared her for the work she is doing now, she explains, "I use many of the program development and public speaking skills I learned during the independent study and other rotations at my current job with Sodexo."
"When I look back on those initial reasons for coming to Keene State, the internship definitely fulfilled that focus."
---
Wise up!
Contact Admissions
Request information