Professional and Graduate Studies
Message from Dean Rebecca Lytle
Our faculty share a common purpose: the success of each one of our students. Bringing deep expertise in their chosen fields, they are committed to sharing that knowledge in ways that will facilitate your learning. Their standards are high because they know that your aspirations are equally high. They will measure your success not only in terms of a program that will carry you through to a degree, but a career well beyond.
We know that the best learning takes place where the following conditions are present: an environment that supports and encourages you to explore; a challenge that helps you to develop and meet your own expectations; and an opportunity that allows you to practice the very skills you will use in the future. And there is a bonus to all of this – you will learn how to learn. That is a skill you will use throughout your lifetime.
Ask any one of our faculty members what brought them to Keene State College, and they will gladly share with you a unique story of how they were inspired to teach by those who taught them. Many are the first in their families to attend college. Others will describe a journey that includes advanced learning, real world experience, ongoing research, collaborative projects with other working professionals, and years of service to the community.
Bring your interest, your unique gifts, your perseverance, and your willingness to immerse yourself in your studies. We will match it.
When students ask us, "Why Keene State?" we tell them about some of the programs they won't find at other schools. That's when the excitement happens!
---
Our program in architecture is the only BS degree major at a public liberal arts college in New England! We place special emphasis on sustainable design, problem-solving, and a collaborative work environment. This pre-professional four-year program will prepare you for graduate study or work in the field. In these videos, two of our recent graduates talk about their experience in the program and how it made a difference for them. More about Architecture
---
Kyle English

Class of 2013
"I am one of those people who likes to take everything apart," laughed Kyle English, a recent graduate of the Sustainable Product Design and Innovation program at Keene State College. Through the SPDI program, Kyle found an opportunity to design and build and to play a part in every phase of the process. His final project was an ergonomic laptop stand that eliminated two of the most common ailments associated with the frequent use of laptop computers: carpal tunnel syndrome and toasted leg syndrome. "I have this problem. I've gone through three or four of the generic laptop rests. So I knew I needed to find the solution."
How are new consumer products designed? KSC's program approaches the artistic, scientific, and technical aspects from a viewpoint that values sustainability and sound business practices. Hands-on, project-based learning gives students the tools and experience for jobs in this fast-moving environment. More about Sustainable Product Design and Innovation
---
Looking to make a difference in the world?

Nursing is a wise choice.
The demand for qualified nursing professionals couldn't be stronger. If you would like to complete your bachelor's degree or prepare for the RN licensing boards, this is the place to start! More about Nursing
---
The Marlborough School and Keene State College have been working together for over three years to create a pilot program for a partnership that benefits the children of Marlborough and college students in the elementary teacher education program at Keene State College.
"Enter to learn, go forth to serve", the Keene State College motto since 1909, exemplifies our educator preparation programs. Not only do our students embody this motto through their work, they also discover ways to support their future students to do the same.
Each educator preparation program's curriculum is designed to meet both national and state standards, and is grounded in the KSC Teacher Education Conceptual Framework.
Students engage in thoughtfully designed and incrementally challenging learning opportunities in field experiences and clinical practice.
---
---
PGS News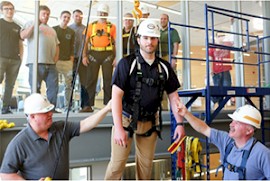 Keene State College Completes Inaugural Construction Safety Bootcamp
June 13, 2016 –
Sixty-four safety professionals interested in learning new skills and updating their knowledge of critical OSHA regulations, as well as 20 college students majoring in safety and occupational health applied sciences who want an advantage with internships and employment, attended seven consecutive, all day construction safety programs at Keene State. The…
May 24, 2016 –
Like many recent Keene State grads, William (Liam) Puksta is looking forward to heading out into the real world and beginning his professional career when he joins Hitchiner Manufacturing as an associate engineer later this month. But it won't be the first time the ambitious sustainable product design and innovation…
May 11, 2016 –
A couple of years ago, Jack Popp, Vice President of Technical Services at Cartamundi's East Longmeadow, Mass., manufacturing facility (which the Belgium-based company recently purchased from Hasbro), attended an open house celebrating the anniversary of Keene State's Safety and Occupational Health Applied Science program. He realized that the company's vertically…
---
Contact Professional and Graduate Studies
Wise up!
Contact Admissions
Request information
Professional and Graduate Studies
Carol Adler
Divisional Administrative Support Coordinator
603-358-2220
Admissions Office
800-KSC-1909
229 Main Street
Keene, New Hampshire 03435