Driver Education Instructor Preparation Program
Welcome to the Keene State College Driver Education Instructor Preparation Program. This section provides information and links that are useful to both new and certified driver education instructors. Driver Education Instructor Preparation courses are offered through Keene State College Office of Continuing Education. The Spring 2019 course listing is now available.
First-time applicants to the Driver Education Instructor Preparation Program must complete the admission process prior to registering for the first course (Introduction to Traffic Safety). Admission to the program includes a completed application form with recommendations, interview, driving assessment, review of motor vehicle, and criminal records. The Driver Education Instructor Preparation Program packet provides an overview of the NH driver education process and the paperwork needed for application to the Keene State program. Interested applicants should download the application packet or contact the Office of Continuing Education for an application packet. An applicant's course registrations will not be processed, nor will a seat be reserved, until the application process is complete.
Certification requirements
Keene State College courses fulfill the Department of Safety requirements. Driver Education Instructor Preparation requirements as identified below.
Provisional Certification courses which meet state requirements (offered twice a year) are:
SAFE 222 Introduction to Traffic Safety
SAFE 333 Driver Education Classroom Methods
SAFE 444 In-Vehicle Driver Education Methods
Standard Certification course requirements must be completed within two years of receiving your Provisional Certification (each course offered ONCE a year):
PH 490 Alcohol, Drugs, and Driving
EDUC 495 Adolescent Growth and Development
EDSP 290 Special Education in the Schools
EDUC 290 Learning Styles/Teaching Styles
SAFE 490 Zone Control
*Tuition and fees are established by the University System of New Hampshire Board of Trustees and may be adjusted at any time.
Textbooks
Textbooks are required for several of these courses. Books are available through the Keene State College Bookstore, and can be ordered and shipped by calling the KSC Bookstore at 603-358-2137; telephone orders must be paid using VISA or MasterCard.
For more information, contact the Driver Education Program Coordinator, Gary Guzouskas by email, or at 603-903-9925.
Class Location:
Keene State College Safety Center
1050 Perimeter Rd, Suite 202 Manchester, NH 03103 800-449-6742 Google Map
For more information please fill out the contact form below:
---
Contact Continuing Education
Your degree is closer
than you think.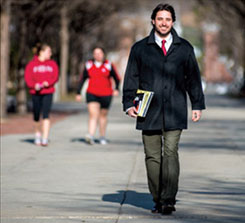 Think Keene State.
Office of Continuing Education and Extended Studies
continuing-ed@keene.edu
(603) 358-2290
Monday - Thursday, 8:00 AM - 6:00 PM
Friday, 8:00 AM - 5:00 PM
Elliot Hall, First Floor, Suite 144
Keene State College
229 Main Street
Keene, NH 03435-2605