Eating on Campus? The College offers a variety of options! You can view them all here or individually:
Now, two ways to save time and get a free lunch besides!
1) Purchase the Community 10 Meal Plan! Here's what's included:
10 Lunches in the Zorn Dining Commons to use any time during the academic year ($90 value). Unused Meals will carry over from the fall to spring semester, but must be used by the end of the spring semester.
1 Bonus DC Meal to use for yourself or your guest in the Dining Commons at any meal during the semester ($6.70 to $13.90 value depending on the meal used). Unused bonus meals do not carry over, they must be used in the semester the plan is purchased.
Speedy entry to the DC, just like the students. Swipe your card, confirm your identity in the hand reader, wait for the 2 fast beeps and enter. Please note: You must have your hand "enrolled" in the reader before the first time you use it. Read more
2) Use your student ID card to pay for lunch at any location and get to the food faster! Using your ID card saves you a lot of time as you can hand your card to the cashier for a quick swipe to deduct the cost of your meal, rather than spending the time to pay with a credit card or cash. Read more
Don't have an Owl Card? Just wait for a "good hair day" and bring a copy of your schedule and your best smile into the ID Office in the lobby of the Dining Commons. They'll create one while you wait.
---
Contact Continuing Education
Your degree is closer
than you think.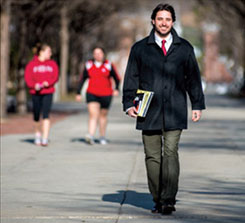 Think Keene State.
Office of Continuing Education and Extended Studies
continuing-ed@keene.edu
(603) 358-2290
Monday - Thursday, 8:00 AM - 6:00 PM
Friday, 8:00 AM - 5:00 PM
Elliot Hall, First Floor, Suite 144
Keene State College
229 Main Street
Keene, NH 03435-2605