Cohen Center for Holocaust and Genocide Studies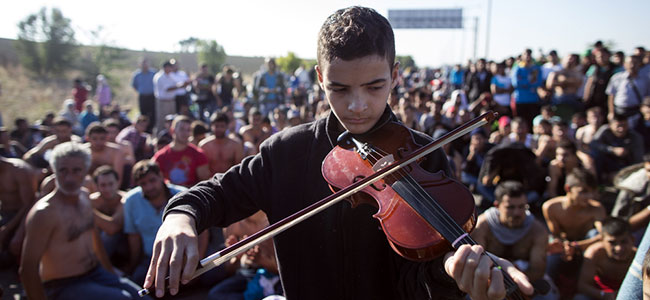 Syrian refugee boy plays violin at the Istanbul-Edirne highway as they wait. September 19, 2015.
Education
Welcome! We believe that Holocaust and Genocide Education has much to contribute to civics education. Although this is difficult and traumatic material, we teach to ensure consistent engagement with the pressing questions of individual and group responsibility towards the other. By exploring values, attitudes, skills, knowledge, and critical understanding of these complex issues and forces, we enable responsible civic engagement. As we remember, we seek to prevent genocide and crimes of mass atrocity by finding points of leverage, intervention, and empowerment.
– Tom White, Coordinator of Educational Outreach
"If the study of history does nothing more than to teach us humility, skepticism, and awareness of ourselves, then it has done something useful. We must continue to examine our own assumptions and those of others and ask, where's the evidence?" - Margaret MacMillan
NH K-12 Social Studies New Hampshire Curriculum Framework
SS:WH:8:1.3: Explore the use and abuse of power that results in mass murder and genocide, e.g., Holocaust. Themes: A: Conflict and Cooperation, F: Global Transformation, I: Patterns of Social and Political Interaction
Destruction of public confidence in news and journalism undermines democracy. It is not that "fake news" exists or that people try to emotionally manipulate via cherry-picked "facts," but the goal is to undermine the credibility of any/all news sources.
Recommended lessons on examining "fake news'
Facing History and Ourselves: What Makes Democracy Work?
The Cohen Center provides resources for teachers striving to help students learn about the Holocaust and genocide and to reflect upon the moral and ethical questions raised by those difficult realities. The center helps teachers develop active and informed citizens committed to mutual respect and justice. More about For Educators
A list of links to external websites and resources for students focusing on Holocaust and genocide studies. Also, a set of links especially for educators. More about Links & Resources
An intensive one-week residential institute that brings educators together from around the United States and Europe. Graduates become Cohen Center Fellows (link to requirements and benefits below highlighted) and join a corps of educators who serve as leaders in Holocaust and genocide education in their schools, communities, and professional organizations and assist the Center in applying its mission. More about Summer Institute
The Cohen Center supports the school's major and minor programs in Holocaust and Genocide Studies and promotes programs for Keene Students who want to learn more about and participate in activities center around genocide studies. More about For Students
---
The Cohen Center's work never stops, but we need your help. Our work in education and commitment to the general public good are recognized as an integral and significant part of the Center's mission.
Cohen Center for Holocaust and Genocide Studies

Keene State College

229 Main Street

Keene, NH 03435-3201
603-358-2490