Arts and Humanities
---
---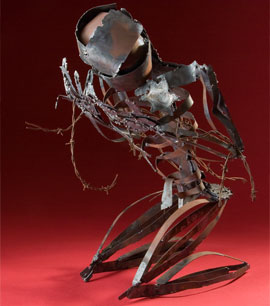 The Cohen Center is much more than a resource center, though that is how it began in 1983. The Center is located at Keene State College in rural New Hampshire. We are charged by our founder, [Dr. Charles Hildebrandt][4] "To Remember…and to Teach." Rooted in the College's public liberal arts mission, the Cohen Center is a leading educational center devoted to the memory and study of the Holocaust and genocide. More about Cohen Center for Holocaust and Genocide Studies
---
Keene State College offers an exciting year-round venue for the arts and a vibrant teaching facility for the visual and performing arts.
Spectacular music, theater, and dance come to the Redfern Arts Center each year creating unforgettable artistic encounters for the campus and the community. Hosting internationally renowned artists, emerging young talent, and Keene State's own student and faculty performers, the Redfern is the region's premiere performance venue. The Redfern's expanded outreach programs and community partnerships create an unparalleled resource for the community and beyond and support the College's departments of music, theatre, dance, and art. More
For over twenty years, the Keene State College Film Society has been screening contemporary, classic, Hollywood, and art house films at the Putnam Arts Lecture Hall at Keene State College. Films are shown year round in a fully equipped venue that includes Dolby Digital Sound. The active schedule of screenings provides a first quality cinematic experience at a reasonable price. More
The Thorne-Sagendorph Art Gallery at Keene State College is a prominent focal point for the visual arts in New Hampshire's Monadnock Region. The Thorne features a schedule of exhibitions of national and international importance and showcases the work of local artists and Keene State College faculty and students. The museum's permanent collection is dedicated to collecting and preserving the art of the 19th-century artists who were inspired by Mount Monadnock and formed the renowned Dublin Art Colony. The collection also includes many contemporary works by Jules Olitski, Fritz Scholder, Robert Mapplethorpe, and George Rickey. More
---
News and Events
Upcoming Events
September 18, 2018 (Tuesday)
October 03, 2018 (Wednesday)
October 21, 2018 (Sunday)
November 03, 2018 (Saturday)
November 17, 2018 (Saturday)
Kirsten Becker, Piano
- • Redfern Arts Center - Alumni Recital Hall, Redfern Arts Center, 90 Wyman Way, , 03457
November 19, 2018 (Monday)
November 26, 2018 (Monday)
Vocal Consort
- • Saint Bernard Catholic Church, 185 Main St, , , USA
December 02, 2018 (Sunday)
December 08, 2018 (Saturday)
Arts & Humanities Newsletter
---
---
Wise up!
Contact Admissions
Request information
School of Arts and Humanities
Sarah Spykman
Divisional Admin Support Coordinator
603-358-2772
Admissions Office
800-KSC-1909
229 Main Street
Keene, New Hampshire 03435