Parking
Parking Home: keene.edu/campussafety/parking.cfm
Click any question below to display the corresponding answer.
?
As a parent, can I park on campus when I come to visit?
Yes. However, you will need to stop at the Campus Safety office, and show a photo ID to receive a visitor permit. A one-day, daytime visitor permit (valid until midnight of that day) is available, and will allow the guest to park in the Visitor's Lot (located next to Keddy House) the Winchester lot, or in another location designated by the Department of Campus Safety.
?
Where can we load and unload materials from our car?
With Move in day as an exception (your student will receive specific instructions about move in day unloading), a number of spaces across campus have been designated as loading/unloading zones. All other stopping or parking must abide by the rules and regulations in force at the time. An unattended vehicle left with flashers on or off that is parked inappropriately will be ticketed and/or towed.
?
Can first-year students bring cars?
Unfortunately, parking is extremely limited and therefore first-year residential students are not permitted to bring their cars to campus. There are independently owned parking lots throughout Keene within walking distance of campus that provide parking for a fee.
?
How will my student get around Keene without a car?
Many businesses are within walking distance to the campus. The City Express bus, which is free to Keene State students, goes to several shopping areas in Keene. "Green Bikes" are available for check-out through the Mason Library using the Keene Link Library Card. Helmets are also available.
---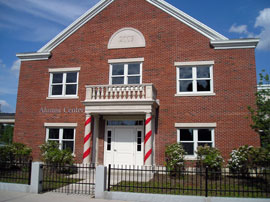 Contact Parents
Barry Alumni House, Alumni Center (Map)
229 Main Street
Keene, New Hampshire 03435-2701
603-603-358-2369 or
800-572-1909, option 8
parents@keene.edu