Mason Library Home: keene.edu/academics/library/
Click any question below to display the corresponding answer.
?
Does the library have wireless access?
Yes, the entire library has wireless access. Students can access the wireless network with their own laptops (Ethernet cords are also available), or they can borrow one of the 36 laptops available at the circulation desk.
?
Are there computers for students to do their papers?
Yes, all 36 laptops are loaded with Microsoft Office as are the 20 computers located in the library classroom (Room 104). Additionally, students can use the 27 public computers for browsing the Internet or accessing the library's online catalog or e-mail. The Parents Association was able to work with the Mason Library and created a collaborative work space in the West wing of the library where students can utilize technology and work together.
In addition of the Library, there is also computer lab space and open, collaborative working space in the Rhodes Hall Computer Lab.
?
Are there printers, photocopiers, and scanners in the library?
Yes, there are five printers throughout the library that uses the print management system the College engages with. Additionally, there are three black and white copiers, one color copier and one scanner available to all students. There are costs associated with printing and copying, but scanning is free.
?
How late is the library open and can students get help with their research projects?
The hours for the library are:
Sunday: 10:00a.m. - Midnight
Monday through Thursday: 8:00a.m. – Midnight
Friday: 8:00a.m. – 10:00p.m., Saturday: 10:00a.m. – 10:00p.m.
Additionally, the library offers extended hours until 2a.m. during the last three weeks of the semester. Students may get help with their research questions by consulting with a reference librarian at the reference desk. Also, they can call, email or IM a librarian.
---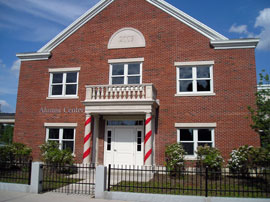 Contact Parents
Barry Alumni House, Alumni Center (Map)
229 Main Street
Keene, New Hampshire 03435-2701
603-603-358-2369 or
800-572-1909, option 8
parents@keene.edu