Campus Safety
Campus Safety Home: keene.edu/campussafety/
Click any question below to display the corresponding answer.
?
How safe is the KSC Campus?
Keene State College is located in Keene, a quiet New England City of 23,000 residence with a very low crime rate. Because of our environment, KSC is not subject to most of the problems of a large city campus; however, we are insulated from crime. We encourage members of community to partner with us in identifying risks and decreasing the opportunities for crime.
Campus Safety is an integral part of campus life and officers are on duty 24 hours a day, year round, patrolling campus and responding to emergencies and requests for assistance.
?
Where can I find Campus Crime statistics?
Keene State College complies with the Clery Act and updates campus crime statistics and policy information annually. This information is available online here.
Paper and large-print copies are available at Campus Safety located in Keddy House. Campus Safety maintains a daily log that is available for viewing during normal business hours or you can view the weekly log on our blog.
?
Who do I call in case of an emergency?
Your student can call Campus Safety at 358-2228 or 911 or use a blue-light phone on campus. Officers are on duty 24 hours a day and are trained to respond to various types of emergencies.
?
What kinds of enforcement does Campus Safety program provide?
Campus Safety Officers have the full authority granted by Keene State College to enforce all KSC policies and regulations as outlined in the student handbook and other publications. They have the authority request identification and will immediately involve the Keene Police Department if criminal activity is observed or reported.
While the Keene State officers do not have arrest powers, they have a cooperative relationship with the Keene Police Department ensuring protection for community members. In addition, the Keene Police Department actively monitors and records criminal activity at off-campus locations.
?
Are there safety escorts available?
Campus Safety operates a safety escort service 24 hours a day that is available to all KSC students, faculty, and staff. Escorts are limited to on-campus locations. Escorts may walk or drive and are provided on a staff-available basis. There may be times when your student is asked to wait at their location until an officer is available. Your student should call the Department of Campus Safety at 603-358-2228 or stop in to Grafton House to request an escort.
?
Do you have an emergency notification system in place?
Keene State College has contracted with Avtex, Inc. to offer the City Watch Emergency Notification System to the Keene State community. The system is designed to send emergency messages to enrolled campus members via SMS (text) message, cellular telephone and/or e-mail when circumstances dictate. The City Watch system is part of the College's overall communication plan.
The Emergency Notification System (ENS) will be used primarily when a situation exists that presents an imminent danger to the campus and/or to notify the College's Emergency Operations Group of an incident. An "imminent danger" is one that threatens the immediate safety of the campus community, is not anticipated, and failure to provide such a warning may result in serious harm.
Examples of such emergencies are a tornado, a chemical or hazardous material spill, or an armed and actively violent person. ENS messages will not be used unless the situation is determined to be imminent and requires immediate action. ENS messages may also be used to notify the campus community about curtailed campus operations.
?
Who can enroll in the emergency notification system?
Students, faculty, staff and parents may enroll in the notification program. Enrollment information is provided to all new Keene State College students prior to and during Fall Orientation via e-mail.
Enrollment is open at all times and is available on the Department of Campus Safety webpage. Individuals who choose to enroll will complete the online registration form and submit the information to City Watch.
---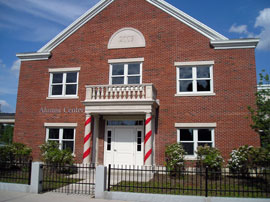 Contact Parents
Barry Alumni House, Alumni Center (Map)
229 Main Street
Keene, New Hampshire 03435-2701
603-603-358-2369 or
800-572-1909, option 8
parents@keene.edu