Family Programs & Happenings
First Year Move In
First year students and family members are welcomed on campus by faculty, staff, and orientation leaders as we help move your student into the Residence Halls and get ready for their next four years at Keene State College. Throughout the day there are opportunities to take a break from unpacking rooms and settling in including lunch on the Quad an parent information sessions.
Pumpkin Fest
The Pumpkin Festival is an event for the entire Keene community. The organizers of the Pumpkin Festival e, Let it Shine, Inc. describe the festival as "The Pumpkin Festival is a community-hosted, family-friendly celebration of fall and of what is unique about Keene and the Monadnock region. It is also a celebration of artistry and creativity and a demonstration of our area's commitment to non-profit efforts to serve those in need." The Parents Association, along with the Alumni Association opens Centennial Hall in the Alumni Center and hosts a welcome area for Keene State College families to warm up, get a snack, meet up with people and more. http://pumpkinfestival2011.org/
Admitted Student Days
Remember bringing your student to Keene State College? In the spring, KSC Admissions hosts high school seniors and their families for a day on campus. They learn about the academic programs, visit residence halls, and attend a resource fair. At the Fair, the Parents Association hosts a table just for parents! It's an opportunity for parents of future Owls to connect with current parents and ask questions and hear about experiences as a KSC parent. http://admissions.keene.edu/visit-us/admitted-student-days
Academic Excellence Conference
In the spring, Keene State College students present their academic projects, research and findings for the year to fellow student scholars, their families, faculty and staff mentors, other members of the KSC community, area legislators, university trustees, and members of the Keene community in celebration of academic research and other forms of scholarship. The daylong conference celebrates academic success and excellence exhibited by current Keene State College students. In many instances, after students present at the Academic Excellence Conference, they take their research and presentation and present at national conferences. http://www.keene.edu/academics/aec/
Senior Family Dinner
The night before Commencement is a time for graduating seniors to celebrate with family and friends! The evening begins with dinner as graduating students have the chance to gather with friends and family to reminisce about the past few years and recognize the great accomplishment of graduation! After dinner, the group will proceed down Appian Way, through the Appian Gateway, to the Alumni Center to celebrate the transition from student to alumni! http://www.keene.edu/alumni/events/senior-dinner/
Off Campus happenings
Regional Dinners
The Keene State College Parents Association hosts a series of dinners to further connect KSC parents to one another. In the past we have hosted them in the Keene area and Nashua. It was a fantastic opportunity for parents to connect with one another, ask opinions and give advice when needed and to build more Keene State College connections.
KSC Connection Nights
The Parents Association and the Alumni association gather members of the KSC Community throughout the year in various areas throughout New Engand. Parents, students, alumni and friends of the College are able to gather with one another to get to know other KSC members of the community. Connections events are a great casual way to connect with some of your fellow alumni and current KSC parents - if there is one in your area in the future, we hope you can attend!
---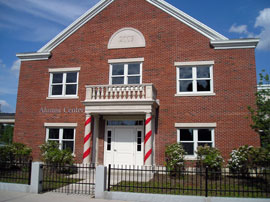 Contact Parents
Barry Alumni House, Alumni Center (Map)
229 Main Street
Keene, New Hampshire 03435-2701
603-603-358-2369 or
800-572-1909, option 8
parents@keene.edu