Parent Family Weekend
Save the Date! September 18 - 20, 2015
The KSC Parent/Family Weekend is a wonderful opportunity for you to visit with your student, stroll campus, meet our campus leaders, and have a good time. We have planned events – including a few that are new this year – which we're sure you'll enjoy.
Check out images from Parent Family Weekend 2014!
Here is an idea of some events that occurred during the 2014 Parent Family Weekend!:
Friday, September 19
National Society of Collegiate Scholars Introduction Ceremony
by invitation only.
Derek Hughes - Stand Up Magician
Derek Hughes grew up in Minnesota, where he studied acting at the University of Minnesota. In 1997, Derek and his collaborator Steve Cuiffo were awarded First Place in stage magic by the International Brotherhood of Magicians for their performance, Express Train. In June of 1998, they were invited to stage it again at the Hudson Theatre in New York City. These days, Derek sometimes finds himself in Minneapolis, performing in Triple Espresso or at ACME Comedy Club. He also writes and performs original one-person plays, including Frankenstein at the Hennepin Center for the Arts, Dreams at the Jungle Theater all in Minneapolis, and Magic Exists most recently staged by Dixon Place in New York City. His independent film credits include Ground Rules, Cut Glass and Second Story Man. When not performing theatre, comedy, or acting in TV or advertising, Derek travels the country performing his magic at college and corporate events. To find out more about Derek, visit his website.
Saturday, September 20
"Better Together" Parent to Parent Forum
Got a question only a parent or guardian can really answer? We know how that is! This fun interactive session has been growing in its popularity year after year! Seasoned parents provide some context to their student's ups and downs and often a student will chime in with their take on the situations as well. This is a good opportunity to interact with folks who have definitely been in your shoes at one time or another.
Women's Soccer vs. Plymouth State University
Student Success Influencers
Attend one session or all three! While students are growing in their independence, it is clear that there remains interdependence as they transition through the college years. Learn from campus leaders about living the college life and how a little bit of knowledge can go a long way when you are a partner along the path toward graduation.
Health & Well Being
Social & Community Building
Living Environments (On campus and off campus)
Ryan LaPerle '05 - Singer/Songwriter Kick back and relax on the quad while enjoying Folk Rock / Indie / Pop / Singer-Songwriter and 2005 KSC alumnus Ryan LaPerle. Ryan joined the Boston music scene back in 2008, since then he has released and self-produced his first full band EP "Disguise". During the past four years, Ryan has won singer/songwriting contests throughout Boston and in 2010 became a (SingerUniverse.com) voice of the month. You can find out more about Ryan here.
Families Meet and Greet with Campus Leaders
The campus leaders are excited to work with your students while they are at Keene State! This is a great opportunity to get to know those who are influencing and shaping your student's college experience. Dr. Huot and Administrators, Deans, Faculty and staff from all areas look forward to meeting you!
Families in Focus
Come join in on a celebration of all our KSC families! This will be a great time to meet other families from your home town or state. We'll all squeeze together for a fun aerial photo!
Eric Dittelman - Comedy Mind Reader
Ever wonder what it would be like to know what someone else was thinking? What if you knew exactly what someone else was going to do before they did it? Eric Dittelman knows what that's like and has been reading minds at colleges, comedy clubs, and private events all across the country. You may have seen Eric as a semi-finalist on NBC's "America's Got Talent" and a guest on "The Ellen Degeneres Show," where he combined amazing mind reading with stand-up and improvisational comedy. Whether playing a round of Pictionary while Eric's eyes are duct taped shut or having a personal thought revealed from their minds, audience members become part of the show and leave with a fun experience that they'll never forget. To learn more about Eric, visit his website.
Sunday, September 21
Honors Program Get Together
by invitation only.
Spend the morning watching Honors student presentations along with other Honors Program highlights.
Family Farewell Brunch
If you have stayed in town over the weekend, this will give you a great chance to bring everyone back together for a good hearty nosh before heading home.
If you have any questions, please contact the Alumni and Parent Relations office at 603-358-2369 or parents@keene.edu. Thank you, and we look forward to seeing you during the weekend.
---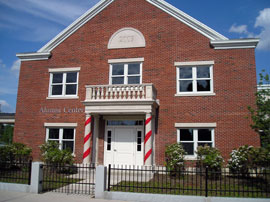 Contact Parents
Barry Alumni House, Alumni Center (Map)
229 Main Street
Keene, New Hampshire 03435-2701
603-603-358-2369 or
800-572-1909, option 8
parents@keene.edu