Events Calendar
Parent Family Weekend
September 19 - 21, 2014
Parent Family Weekend will be September 19, 20 and 21, 2014
Visit the Parent Family Weekend Website for details and to register.
The KSC Parent/Family Weekend is a wonderful opportunity for you to visit with your student, stroll campus, meet our campus leaders, and have a good time. We have planned events – including a few that are new this year – which we're sure you'll enjoy.
-Members of the KSC Parents Association and the student-led Social Activities Council
KSC Owl's Roost: Pumpkin Festival Open House
October 18, 2014 · 11:00 a.m. - 5:00 p.m.
Warm up, get a snack, use the facilities and meet your friends at the Alumni Center's Owl Roost! We will be once again opening Centennial Hall for those alumni and parents coming in to town and offering refreshments and a quiet place to get away from the crowds from 11-5. We are sorry but we will not be offering parking for alumni and parents during the Pumpkin Festival this year. We hope to see you at our open house.
Hosted by: The Alumni Association, the Parents Association and Alumni & Parent Relations Office
---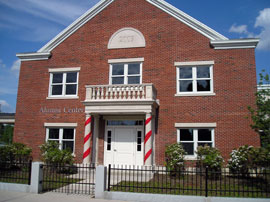 Contact Parents
Barry Alumni House, Alumni Center (Map)
229 Main Street
Keene, New Hampshire 03435-2701
603-603-358-2369 or
800-572-1909, option 8
parents@keene.edu