Ernest & Celestine
Redfern Arts Center - Putnam Theater
Friday, May 02, 2014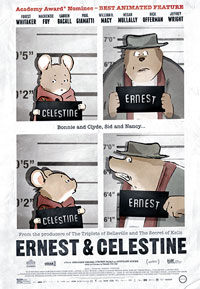 France, 2012, 80 minutes, Animation, Directed by Stephane Aubier, Vincent Patar & Benjamin Renner.? The English-language voice cast features Forest Whitaker, Lauren Bacall, Paul Giamatti, William H. Macy, Megan Mullally, Nick Offerman, Jeffrey Wright. On Blu-Ray.
Deep below snowy, cobblestone streets, tucked away in networks of winding subterranean tunnels, lives a civilization of hardworking mice, terrified of the bears who live above ground. Unlike her fellow mice, Celestine is an artist and a dreamer – and when she nearly ends up as breakfast for ursine troubadour Ernest, the two form an unlikely bond. But it isn't long before their friendship is put on trial by their respective bear-fearing and mice-eating communities. 
Fresh from standing ovations at Cannes and Toronto, Ernest & Celestine joyfully leaps across genres and influences to capture the kinetic, limitless possibilities of animated storytelling. Like a gorgeous watercolor painting brought to life, a constantly shifting pastel color palette bursts and drips across the screen, while wonderful storytelling and brilliant comic timing draw up influences as varied as Buster Keaton, Bug Bunny and the outlaw romanticism of Bonnie and Clyde. Bringing it all together is the on-screen chemistry between the two lead characters – a flowing, tender and playful rapport that will put a smile on your face and make your heart grow.
Based on the classic Belgian book series by Gabrielle Vincent, Ernest & Celestine won France's César Award for Best Animated Feature, and has been nominated for Best Animated Feature at the 86th Academy Awards®.
Friday and Saturday at 7:00 & 9:00 p.m.
Saturday and Sunday Matinees at 2:00 p.m.
Sunday through Thursday at 7:00 p.m. only
Contact:
Putnam Theatre
603-358-2160
To request accommodations for a disability, please contact the coordinator at least two weeks prior to the event.