KSC Film Society Archive Night
Redfern Arts Center - Putnam Theater
Thursday, March 13, 2014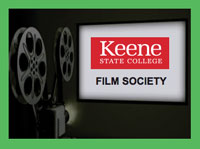 This may be the start of a new tradition! Come see what Film Society members pull out of the college's vast film archive to show on the big screen. It could be on 35mm, 16mm, or maybe even 70mm! Who can say?
Head on down and see what surprises emerge from dark recesses of the KSC film vault, located 7 stories below the Redfern Arts Center in a lead-lined, hermetically chamber!
Thursday at 7:00 p.m. only
Free and open to the public
Contact:
Putnam Theatre
603-358-2160
To request accommodations for a disability, please contact the coordinator at least two weeks prior to the event.