An evening with visiting filmmaker Peter Burr
Redfern Arts Center - Putnam Theater
Thursday, November 14, 2013 · 7:00 p.m. - 9:00 p.m.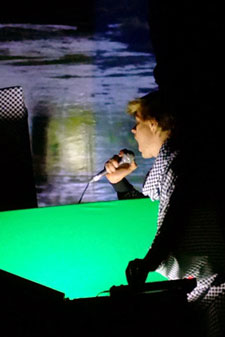 Peter Burr will present Experiment In Live Cinema Based On Tarkovsky's Stalker.
Special Effects take inspiration from Andrei Tarkovsky's classic sci-fi-art film, particularly from the idea of "the Zone," a strange place in the film where desires are granted and anything is possible.
The performance will mix up different types of media and will feature a live setup of laser beams, and green screens.
Free and open to the public.
Contact:
Putnam Theatre
603-358-2160
To request accommodations for a disability, please contact the coordinator at least two weeks prior to the event.