Kristallnacht Remembrance
The Colonial Theatre
Thursday, November 07, 2013 · 7:00 p.m. - 9:30 p.m.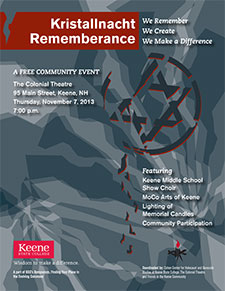 This annual event seeks to bring the community together to bear witness and recognize our responsibility to promote an active and informed citizenry, recognize individual and societal responsibility for each other, and foster mutual respect and justice.
We Remember, We Create, We Make a Difference
Sponsors include the Keene Interfaith Clergy Association; KSC Campus Ministry, Congregation Ahavas Achim, and the Office of the Vice President for Finance and Planning at Keene State College.
The Colonial Theatre
95 Main Street
Keene, NH
Contact:
Michele Kuiawa
358-2490
To request accommodations for a disability, please contact the coordinator at least two weeks prior to the event.