Commencement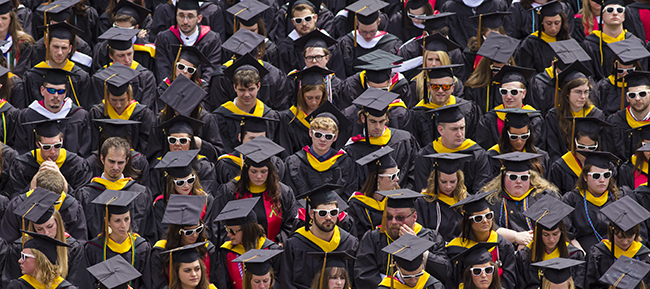 Message from the President
Dear Graduate,
On behalf of the faculty and staff at Keene State College, I congratulate you on your upcoming graduation and invite you to participate in the Commencement ceremony to be held on Saturday, May 6, 2017, at 1 p.m. on Fiske Quad.
The Commencement ceremony is a time-honored tradition in academia, marking the completion of requirements for your degree and publicly recognizing you before an audience of family and friends.
Please browse this website for important information you need to prepare for this event. You'll find a timeline with deadlines for the coming months and logistical details for the day, such as where to line up prior to the ceremony.
Here's one of the first things you must do in order to participate in Commencement — you will receive a personalized link to the online Participation Form via your ksc.keene.edu account. You must complete the online Participation Form prior to attending the Commencement Fair on Wednesday, March 22, or Thursday, March 23, in the Madison Street Lounge. Be sure to keep track of this and other deadlines.
During this year, I have celebrated your many achievements — in the classroom, on the playing fields, and in service to others. Now I look forward to celebrating this milestone with you and greeting you as you cross the Commencement platform.
Sincere best wishes,
Anne
Anne E. Huot, PhD
President
---
Spring Honors Convocation
Spring Honors Convocation will be held at 4 p.m., Friday, May 5 in the Main Theatre of the Redfern Arts Center.
Students receiving awards will be notified approximately two weeks before the event. Families will also be invited. Academic regalia is required for students participating in the event. The Main Theatre in Redfern is Handicapped accessible. Check-in for students receiving awards begins at 3:15 p.m.
---
The Commencement Ceremony
Commencement
Saturday, May 6, 2017
The ceremony begins at 1 p.m.
The Senior Class has decided that the Keene State College Commencement ceremony will be held outdoors on Fiske Quad (rain or shine) so that all family members and friends can attend. The ceremony lasts about three hours. Pets are not permitted, with the exception of service animals.
No tickets are required. Seating for guests is on a first-come, first-seated basis. As the ceremony is heavily attended, we recommend that family members and friends arrive early and are seated on the quad no later than 10:30 a.m.
Viewing alternatives: the ceremony will also be broadcast on closed-circuit television in the Mabel Brown Room and in Morrison Hall.
---
Questions?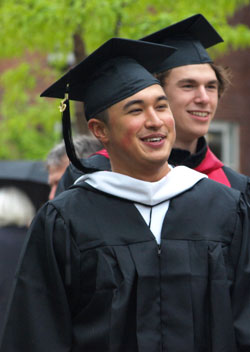 For questions about Commencement or Honors Convocation, please email the Office of College Ceremonies and Events, or call (603) 358-8500.
Commencement 2017 will take place on May 6, 2017.
Commencement 2018 will take place on May 5, 2018.
Commencement 2019 will take place on May 11, 2019. Commencement 2020 will take place on May 9, 2020.