Task 4.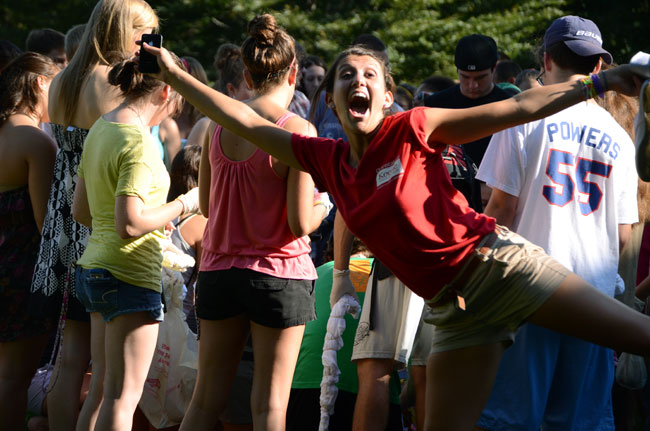 Preparing Your Fall Schedule
Keene State College provides new first time students an academic start by registering you in the first two classes required for your intended major for the Fall 2015 semester. You were registered for these courses based on what you told us about your area of academic interest and what the faculty in that discipline recommends for your first semester.
As you'll be able to see, the faculty recommendations include suggestions encouraging exposure to many parts of the curriculum. Follow this link to see the faculty course recommendations for your academic discipline.
If you've indicated to us that you're undecided, you've been registered for two courses that will help you clarify your academic direction and, no matter what major you eventually choose, these particular courses will apply towards your graduation requirements.
Now that you've got your schedule started you should review the Integrated Thinking and Writing (ITW), Integrated Quantitative Literacy (IQL), and other Integrative Studies program (ISP) offerings as you will be choosing two more courses during June Orientation. Take time to read more about these courses and various academic majors in our online catalog.
You will leave June Orientation with a completed "working" fall schedule. We call this a working schedule because that allows you to think closely about your classes or educational direction throughout the summer. If you choose to adjust your educational path or classes before the semester begins, you'll have an opportunity to do that. A "working" schedule becomes a finalized schedule on the last day of schedule adjustment in September.
If you think you want to adjust your first two courses, you'll have an opportunity to do so in June (see below).
Steps for the task:
Review your first two courses
Review ITW, IQL, and other ISP offerings
Let us know about AP courses and transfer credits
1. View your first two classes
Log into MyKSC
Select Student Services tab. "My Class Schedule" is the first option under Academic Planning. Select Fall 2015 and you will view your classes.
During Orientation you'll learn about how you can use Student Planning in MyKSC to keep track of what requirements you've satisfied and what courses you still need to take.
Check In
Have you learned about the courses associated with your academic area of interest?
2. Let us know about AP courses and transfer credits
If you have completed any advanced placement courses or have taken courses at another college and plan on transferring that information to Keene State, make sure you include those course topics in your program planning. Remember to submit official transcripts from colleges attended, or College Board for AP credit.
KSC will verify the transferability of any coursework, but for now we want to avoid duplication. If you are registered in a Fall 2015 course that you have previously completed at another institution, please notify Academic and Career Advising by emailing aca@keene.edu.
Check In
If you have taken AP or college courses have you accounted for those? For New Hampshire residents completing courses at other New Hampshire colleges and universities, check out NHTransfers.org for equivalencies.
3. Learn the components of a Keene State College degree
At Keene State, a typical semester course is worth 4 credits, and 120 credits are required for graduation. Although you are considered a fulltime student with 12 credits per semester, we urge students to enroll in 16 credits to graduate on time.
While accruing the 120 credits needed to graduate, you must fulfill three different kinds of degree requirements.
Integrative Studies Program (ISP) (the KSC General Education program)
Major
Electives
Use the Academic Catalog to get familiar with Keene State's:
Majors and Degree requirements
Undergraduate programs
Academic Support
You may still be committed to the original academic interest you provided on your Keene State College admission application but if you've changed your mind, no problem. Check in with your O-Staff leader and see what faculty in academic departments are recommending for your first semester or take a look at the department advising plans.
Need to change your schedule? Reasons for adjusting your schedule online include:
Your academic interest has changed
Times of classes conflict with athletic practice or work schedule
You have previously completed a course with AP credits or a pre-KSC college experience
We are providing four opportunities for you to adjust your schedule:
June 2015 Orientation
Online from August 17-31, 2015
Assisted schedule adjustment during Orientation (August 26-30, 2015. Look for specific dates and times as Orientation materials are finalized)
Faculty signature only: Schedule Adjustment week: August 31 – September 7, 2015
Adjust if you choose but remember, DON'T DROP A CLASS UNTIL YOU ADD ANOTHER.
Check In
Have you reviewed the KSC course catalog for a complete list of majors offered and related courses?
---
Contact Orientation Staff