Task 1.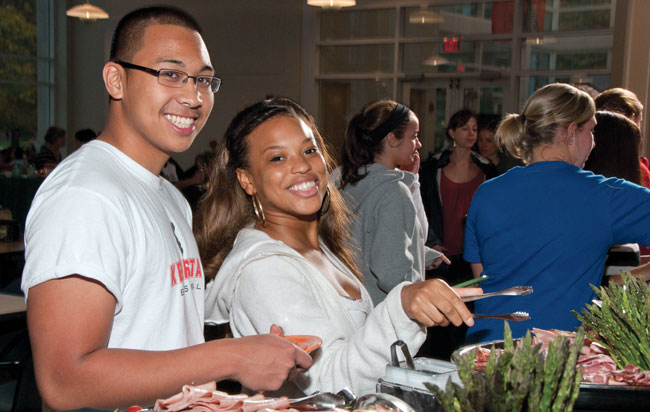 Submit Your Housing & Dining Application
How do I sign up for housing and a meal plan?
Access the Housing and Dining Application: By mid-May you will receive information on how to access the housing and dining application via your KSC email account. Instructions on how to access your KSC email account will be mailed from the Admissions Office to your home address.
Submit the Housing and Dining Application: As a new student seeking on-campus housing you are required to complete and submit your housing and dining application, which includes commitment to the housing and meal plan contracts, by June 1st. If you are under age 18, you'll need a parent or legal guardian to agree to these contracts.
Notification of your Housing Assignment: In early to mid-July, you will be notified of your housing assignment and given contract information for your roommate(s).
Am I required to live on campus?
All first and second year students are required to live on campus unless granted an exception by the Director of Residential Life and Housing Services. This includes transfer students with 51 or fewer total credits.
Exceptions will be considered for students commuting within a 30 mile radius of the campus and living with a parent or legal guardian, married students, and non-traditional age students. Other exceptions may be made due to extenuating and mitigating circumstances related to health and safety issues. The request to be released from housing must come from the student, not from the parent or legal guardian.
Can I choose the residence hall I want to live in?
You'll be able to indicate your top two residence hall preferences, but where you are placed will be based on availability. You may want to consider living in a Parliament, which is a living and learning community for first-year students.
Click here for more information on all the residence halls.
Can I room with a friend?
While we do not guarantee roommate preferences, we do try to honor all mutual requests made by June 1st. List your preferred roommate on your housing application and we will do our best to accommodate your reuqest. Consideration of roommate requests are based on the date of deposit, mutual building preferences, and other preferences indicated on your application. Please note that if you and your requested roommate want to live in a Parliament, you both need to request it.
Am I required to have a Meal Plan?
All students living in traditional housing are required to carry a Platinum Meal Plan. Find more information about the Platinum Meal Plan and available upgrade options here. If you do not select the Platinum Meal Plan or one of the upgrade options available to you, the basic Platinum Plan will be assigned to you.
What are the housing and meal plan contracts all about?
Your housing and meal plan are contracted for the full academic year and billed by semester. Please read the Housing Terms and Conditions [PDF] and the Meal Plan Contract Terms and Conditions [PDF].
Questions?
Find housing information here.
Find meal plan information here.
---
Contact Orientation Staff