Sciences and Social Sciences
Message from the Dean
Building Excellence in Science and Technology
The Building Excellence in Science and Technology (BEST) program at Keene State College is designed to help you succeed, whether you've always known you were interested in the sciences or whether you're just realizing the sciences might be the path for you.
Poverty, inequality, homelessness, voter enfranchisement, and global climate change. These are just some of the most pressing concerns facing the world today. And these are the issues that engage our students and faculty in the School of Sciences and Social Sciences every day.
Education is an active process – our students learn through research, service learning, and active citizenship. We emphasize critical thinking and creative problem solving as a way to approach any challenge. We challenge and support diverse learners and encourage strong relationships among our students, our faculty and our staff. We'll look at every topic from a global perspective, and discover ways to promote social justice, environmental sustainability, and active collaboration with our community partners. We aim to make a difference, for our students and the world—and we do. More about Message from the Dean
---
How livable is your community? Three students from Keene State received the Association of American Geographers Best International Undergraduate Student Paper Award for 2013 for their work in creating an assessment tool to measure one local town's appeal. More about Students Receive Award for Community Project

Mark Newton, KSC Class of 1987, knows something about the intersection of sustainability and social responsibility. In fact, he may have paved the road that got us there. Read more about a career that had its beginnings in the chemistry labs at Keene State College and a stop in the vice president's role at Timberland Corporation. More about Alumni Are Breaking New Ground
She's got a passion for passionflowers. Dr. Kristen Porter-Utley's research is helping to untangle the more than 560 species of vines and trees of the Decaloba Passiflora. She is the recipient of the 2013 Faculty Distinction in Research and Scholarship Award at Keene State College. More about Keene State Faculty With a Passion for Research
---
---
Sciences News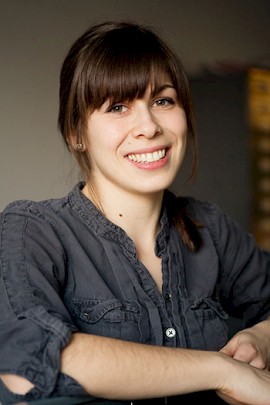 '15 Graduate Stays in Keene to Make A Healthier Community
February 1, 2016 –
Looking at her achievements now, nobody would guess that Keene State College's Community GIS (geographic information system) Coordinator Samantha Gaudette began her education career with such a rocky start.
Growing up in and around Dover, NH, Samantha dropped out of high school twice, earned her GED and began working full…
January 27, 2016 –
Students planning a career in medicine got a leg up recently when Brett Murray '12, currently a third-year medical student at Boston University, was on campus to advise those on a pre-med track and answer questions about applying to medical school.
When he heard that Biology Professor Susan Whittemore had…
January 21, 2016 –
This story of a brilliant idea to make the olive the center of a liberal arts study, conceived by a professor from Turkey and taking root as a new Honors class at Keene State, actually starts at Amherst College, in Massachusetts. That's where KSC Chemistry Professor Richard Blatchly's wife, Patricia…
---
Wise up!
Contact Admissions
Request information
Sciences and Social Sciences
Marianne O'Brien
Divisional Admin Support Coordinator
603-358-2544
Admissions Office
800-KSC-1909
229 Main Street
Keene, New Hampshire 03435