Summer Institute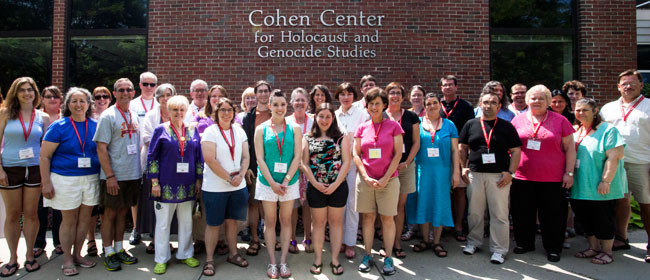 An intensive one-week residential institute that brings educators together from around the United States and Europe. Attendees who complete the Institute become Cohen Center Fellows (link to requirements and benefits below highlighted) and join a corps of educators who serve as leaders in Holocaust and genocide education in their schools, communities, and professional organizations and assist the Center in applying its mission. MORE
Upcoming Institute: 12-18 July 2015
Registration fee includes: room and board Pondside III; all texts and materials; all lectures and presentations.
Goals
To empower participants with practical pedagogical and methodological competencies necessary to effectively and responsibly teach and engage students in continual Holocaust and genocide studies.

To empower participants to become Cohen Center Fellows promoting conversation in schools and communities that promotes the mission of the Cohen Center.

To familiarize the participants with the processes by which genocide unfolds while identifying factors that move ordinary people to become evil.

To explore ways that education can prevent genocide and crimes of mass atrocity.
2015 Guest Speakers Joining KSC Faculty:
Ambassador Sichan Siv, Cambodian survivor
Roger Brooks, President and CEO of Facing History and Ourselves
Stephan Lewy, survivor and U.S. Army "Ritchie Boy"
Kathy Preston, hidden child
Vahidin Omanovic, Bosnian survivor and co-founder of the Center for Peacebuilding
Martin Rumscheidt, theologian and son of I.G. Farben executive
Jacqueline Hanlon, educator and professional consultant/presenter from Somersworth, NH
Emily Robinson, KSC Holocaust and Genocide Studies major
Cohen Center Fellows
Fellows are leaders who promote the mission of the Cohen Center. Fellows:
Serve as a regional contacts
Present a workshop at a professional conference
Write an article for a newspaper or professional journal
Conduct a book discussion in your community or a present a lecture
Develop a lesson plans for distribution
Coordinate community events
CCHGS Fellows' Benefits
Special invitations to events and programs
Membership in the Cohen Center Professional Community of Practice
Eligible for the Jewish Foundation for the Righteous annual residential summer institute in NYC
---
The Cohen Center's work never stops, but we need your help. Our work in education and commitment to the general public good are recognized as an integral and significant part of the Center's mission.
Cohen Center for Holocaust and Genocide Studies

Keene State College

229 Main Street

Keene, NH 03435-3201
603-358-2490