Summer Institute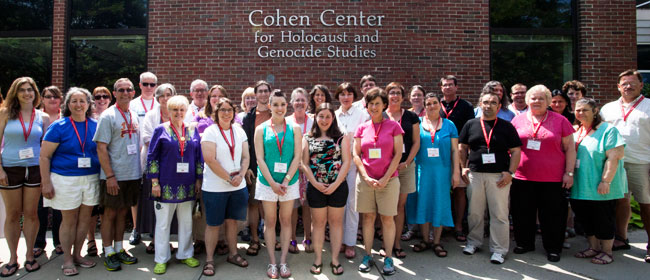 An intensive one-week residential institute that brings educators together from around the United States and Europe. Attendees who complete the Institute become Cohen Center Fellows (link to requirements and benefits below highlighted) and join a corps of educators who serve as leaders in Holocaust and genocide education in their schools, communities, and professional organizations and assist the Center in applying its mission. MORE
Tentative dates for next Institute: 9-15 July 2017
Goals
To empower participants with practical pedagogical and methodological competencies necessary to effectively and responsibly teach and engage students in continual Holocaust and genocide studies.

To empower participants to become Cohen Center Fellows promoting conversation in schools and communities that promotes the mission of the Cohen Center.

To familiarize the participants with the processes by which genocide unfolds while identifying factors that move ordinary people to become evil.

To explore ways that education can prevent genocide and crimes of mass atrocity.
2015 Guest Speakers Joining KSC Faculty:
Ambassador Sichan Siv, Cambodian survivor
Roger Brooks, President and CEO of Facing History and Ourselves
Stephan Lewy, survivor and U.S. Army "Ritchie Boy"
Kathy Preston, hidden child
Vahidin Omanovic, Bosnian survivor and co-founder of the Center for Peacebuilding
Martin Rumscheidt, theologian and son of I.G. Farben executive
Jacqueline Hanlon, educator and professional consultant/presenter from Somersworth, NH
Emily Robinson, KSC Holocaust and Genocide Studies major
Cohen Center Fellows
Fellows are leaders who promote the mission of the Cohen Center. Fellows:
Serve as a regional contacts
Present a workshop at a professional conference
Write an article for a newspaper or professional journal
Conduct a book discussion in your community or a present a lecture
Develop a lesson plans for distribution
Coordinate community events
CCHGS Fellows' Benefits
Special invitations to events and programs
Membership in the Cohen Center Professional Community of Practice
Eligible for the Jewish Foundation for the Righteous annual residential summer institute in NYC
James H. White/Sibylle Sarah Niemoeller-von Sell Fellowship
The award honors the late James H. White (KSC 1984) and Sibylle Sarah Niemoeller von Sell and was created with a lead gift from Michael (KSC 1959) and Phyllis White (KSC 1960).
The purpose shall be to provide a full or partial scholarship for at least one citizen to attend the Cohen Center's annual Civic Leadership Project (CLP) or participate in educational outreach events such as the biennial summer institute.
James H. White was the beloved brother of the Thomas White, the Coordinator of Educational Outreach. He was a man of integrity, committed to affirming the dignity of all human persons. He had an uncompromising sense of justice and as a teacher and wanted people to honestly confront prejudice and injustice.
Sibylle Sarah Niemoeller von Sell is a writer, lecturer and widow of anti-Hitler pastor Martin Niemoeller, was born to an old, highly esteemed Prussian aristocratic family. The family was staunchly and uncompromisingly anti-Nazi even before Hitler came to power. Sibylle von Sell was expelled from high school for refusing to join the Hitler Youth. Later, she suffered interrogation and physical abuse by the Gestapo for her family's connection to the unsuccessful 1944 plot to assassinate Hitler. The pastor of the von Sell family's Lutheran church was Martin Niemoeller, founder of the anti-Nazi Confessing Church in 1933, whose public attacks of the Nazi regime gave him such international attention that Hitler was reluctant to have him executed. He was, however, arrested, spending the war years in the concentration camps of Sachsenhausen and Dachau. After the war, she emigrated to the U.S., where she and Niemoeller were reacquainted and eventually married. After the death of her famous husband, she converted to Judaism and took the name Sarah — a meaningful gesture, she said, because it is the name that was used by the Nazis as a derogatory reference to Jewish women during the Holocaust.
Jim and Sibylle embody the values of civic leadership and moral responsibility. They shared the belief that present and future generations should take responsibility for building a world free of antisemitism, intolerance, and hate.
Recipients of this fellowship are required to write a letter of gratitude to Michael and Phyllis White and Sibylle Niemoeller von Sell discussing the personal impact of the CLP.
[Ernie Michel Testimony 2008, part 4]
[Ernie Michel Testimony 2008, part 5]
---
The Cohen Center's work never stops, but we need your help. Our work in education and commitment to the general public good are recognized as an integral and significant part of the Center's mission.
Cohen Center for Holocaust and Genocide Studies

Keene State College

229 Main Street

Keene, NH 03435-3201
603-358-2490