Cohen Center for Holocaust and Genocide Studies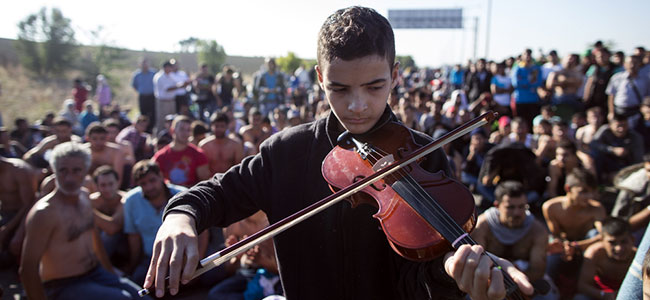 News & Newsletters
Keene State students and faculty are making and following news from around the world. Learn about the latest research and resources, activities at Keene State College, people in the news, articles, and lectures.
September 21, 2016 –
The powerful story of Waitstill and Martha Sharp – a Unitarian minister and his wife from Wellesley, Massachusetts, who left their safe life of comfort to spend two dangerous years helping hundreds of political dissidents and Jewish refugees flee the Nazis at the beginning of World War II – would…
August 29, 2016 –
This fall, Keene State College and local community organizations will present a variety of programs as part of a project titled "Voices of Terezin: A Commemoration."  Terezin (or Theresienstadt to the Germans) was a Nazi concentration camp in Czechoslovakia, near the German border, where numerous Jewish artists & intellectuals were…
October 26, 2015 –
You can read about history, or watch great documentaries, but nothing gives you a connection to the past like holding an old letter or historical document in your hand. For example, the students working on transcribing the letters of Willard Templeton , a New Hampshire soldier who fought and died…
---
---
The Cohen Center's work never stops, but we need your help. Our work in education and commitment to the general public good are recognized as an integral and significant part of the Center's mission.
Cohen Center for Holocaust and Genocide Studies

Keene State College

229 Main Street

Keene, NH 03435-3201
603-358-2490